ACH Pediatric TMS Laboratory
In 2010, the CPSP opened the ACH Pediatric Transcranial Magnetic Stimulation (TMS) Laboratory. Ours is the first TMS laboratory dedicated to children in Canada and one of only a few such facilities in the world. Funding to establish the lab was provided by community support through the Alberta Children's Hospital Foundation.
Transcranial Magnetic Stimulation
TMS technology is a non-invasive method used to study the electrical properties of the brain.
The focused magnetic field created enters a small area of the brain and activates the cells (neurons) in that area. When applied over the movement (motor) parts of the brain, this can create a "twitch" in a muscle which we measure with some stickers placed over that muscle, usually in the hand.
Application of TMS is very safe and well tolerated in children. Having TMS involves sitting still in a comfortable chair while the neurologist rests a small device (called a coil) over the area of the brain to be stimulated. Different strengths of stimulation are applied and with stronger ones the muscles of the hand or face may twitch but this is not painful. The only complaint we sometimes hear from young people is boredom, with some studies taking a few hours to complete. This is usually overcome by teaching kids about TMS and their brains and (more importantly) our huge plasma screen TV where they can watch TV or their own DVD's.
TMS has a remarkable capacity to measure and "map" how a child's brain is functioning including information on how it may have recovered from an injury like stroke. Either a single stimulation (single-pulse) or a pair of stimulations close together (paired-pulse) can be used to measure many different properties of the brain including the integrity of certain pathways, how active or "excitable" a brain region is, and even how different areas of the brain are communicating with each other.
Early evidence also suggests that repeated applications of TMS with a special machine (called repetitive or "rTMS") may have some lasting effects on brain function. Therefore, if done correctly, rTMS may have the potential to be used as a treatment to help the brain work better. Studies in adults with different neurological conditions appear to support this possibility. Evidence of the benefits of rTMS in children has not yet been established but is an active area of investigation in our lab.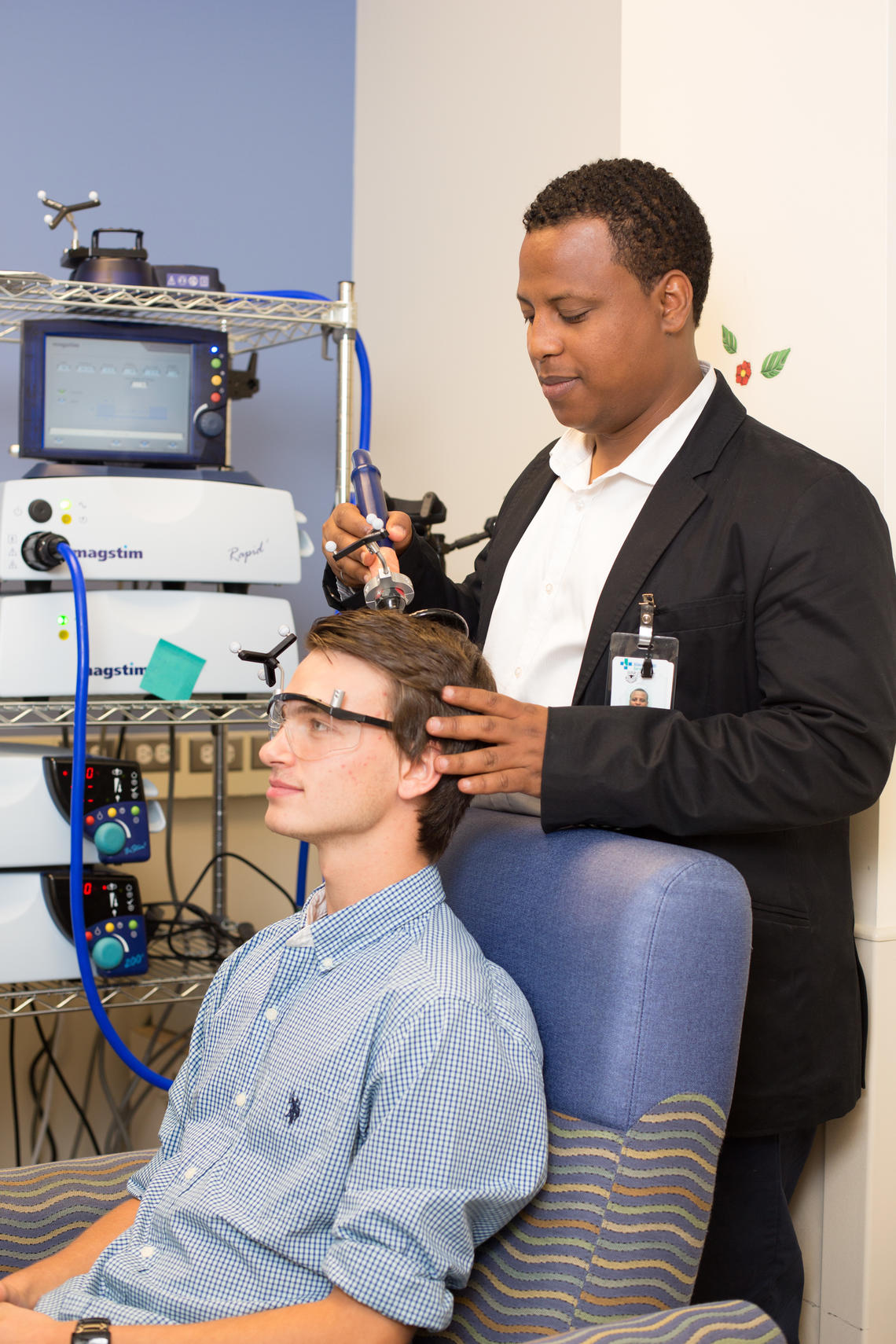 Our lab is primarily interested in studying the response of the developing brain to injuries. Most of our work focuses on stroke in children, specifically strokes occurring in the fetus or newborn. We consider this the ideal human model of developmental neuroplasticity as such injuries are quite common and usually represent a very focal injury in an otherwise healthy brain. Such features should allow us to better understand how the brain changes (plasticity) through development after such an early injury, both in good ways and bad. Such understanding is already beginning to help us try and develop better treatments. Our current clinical trial provides a good example (SPORT).
Director
Dr. Adam Kirton
Neurophysiologist 
Dr. Ephrem Zewdie
Technological capacities   
Single pulse, paired pulse, repetitive (rTMS), afferent stimulation
Funding
Alberta Children's Hospital Foundation
Heart and Stroke Foundation of Alberta