PHASE 1
This partnership has helped bring medical simulation-education to Uganda in the area of Managing Maternal, Newborn and Child Health Emergencies. SIM for Life has strengthened capacity at Mbarara University of Science and Technology (MUST) by leveraging world-class expertise at University of Calgary KidSIM Aspire Centre in Canada, Stavanger Acute medicine Foundation for Education and Research (SAFER) in Norway, and Consortium for Affordable Medical Technologies in Uganda. 
Findings from Phase 1 were shared at the Simulation for Life symposium in March 2019. Attendees included various regional university medical schools, CUAMM Doctors with Africa, Clinton Health Access Foundation, the Ministry of Health and Local Health Districts of Ntungamo, Rubirizi, Isingiro, Bushenyi and Mbarara. In 2019, SIM for Life was designated by the Ministry of Health as the simulation skills leader in maternal, newborn skills trainings and simulation methodologies in Uganda.
PHASE 2
Phase 2 is a multi country initiative with the goal to support simulation at two medical schools in northern and eastern Uganda, at Mwanza, Tanzania and at Jos, Nigeria. 
Phase 2 aims to: 
Consolidate advanced sim teaching methods, curricula and assessment at Mbarara.
Develop an East Africa e-network Community of Practice.
Introduce equity-oriented reflection.
Develop a SIM-enhanced package for Helping Mothers Survive training.
Use and test innovative, sim-enhanced tools to save newborn lives and track improvements. 
Research will consider: effectiveness of residents as SIM educators; barriers and enablers to effective scale up of simulation; impact of simulation on gender and equity, dynamics among inter-professional teams; health outcomes of use of simulation-enhanced tools on newborn resuscitation and survival rates.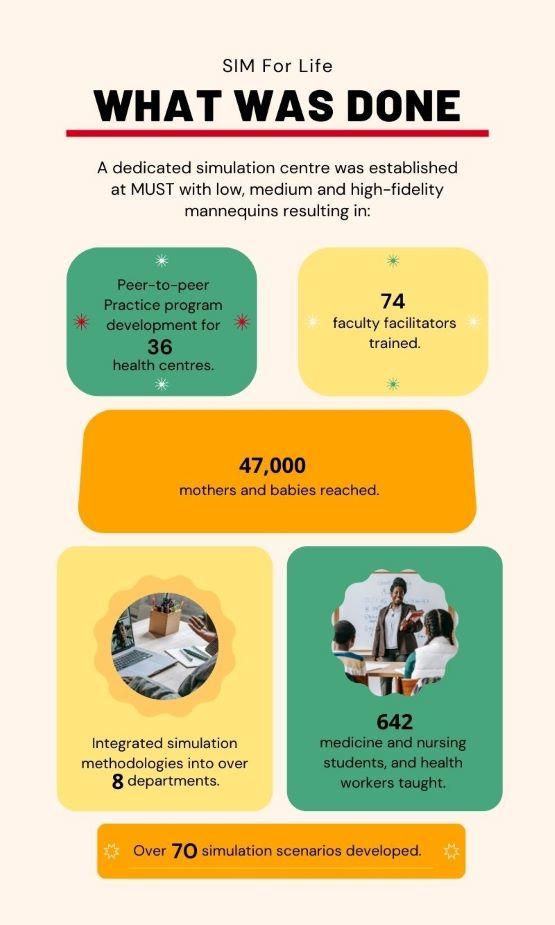 Initiative partners:
Stavanger Acute medicine Foundation for Education and Research
Consortium for Affordable Medical Technologies in Uganda
SIM for Life activities are undertaken with the financial support of the ELMA Foundation, Laerdal Foundation and International Development Research Centre.