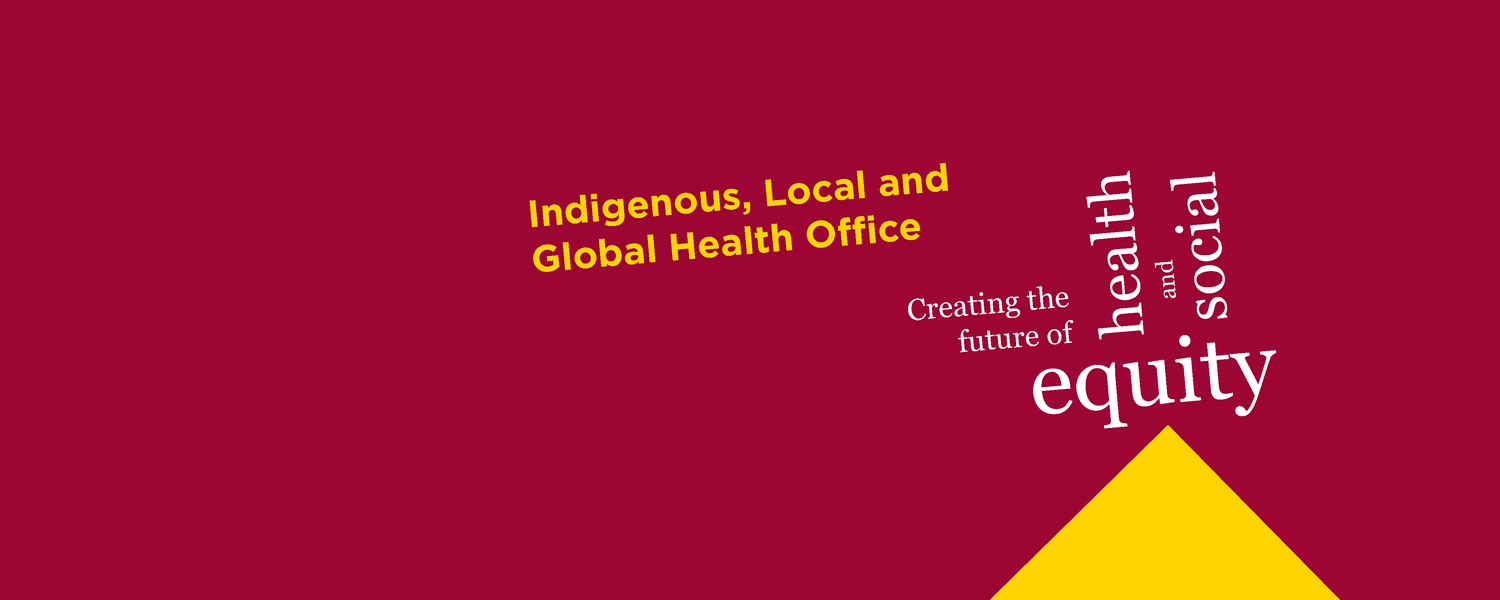 Below you'll find a collection of our papers and publications - including internal papers showcasing our performance and project-specific publications and reports. For a complete list of papers and publications from our office directors, please refer to PubMed.
Indigenous, Local and Global Health Office program highlights:
Project-specific papers, publications and reports:
Publications
Ruzycki SM, Freeman G, Bharwani A, Brown A. Association of Physician Characteristics With Perceptions and Experiences of Gender Equity in an Academic Internal Medicine Department. JAMA Netw Open. 2019;2(11):e1915165. Published 2019 Nov 1. doi:10.1001/jamanetworkopen.2019.15165
Bharwani A, Kline T, Patterson, M. A stakeholder-based approach to leadership development
training: the case of medical education in Canada. International Journal of Training and
Development 21:3. 2017 July. ISSN 1360-3736 DOI: 10.1111/ijtd.12104.
Bharwani A, Kline T, Patterson M, Craighead P. Barriers and enablers to academic health
leadership. Leadersh Health Serv (Bradf Engl). 2017 Feb 08;30(1):16-28. PubMed PMID:
28128041.
LaBrie M. Collaborative and participatory approaches to building community capacity for palliative and end of life care. Ann Palliat Med. 2018;7(Suppl 1):AB002. doi:10.21037/apm.2018.s002
Purkey E, Hollaar G. Developing consensus for postgraduate global health electives: definitions, pre-departure training and post-return debriefing. BMC Med Educ. 2016;16:159. Published 2016 Jun 4. doi:10.1186/s12909-016-0675-4
Fraser K, Ma I, Teteris E, Baxter H, Wright B, McLaughlin K. Emotion, cognitive load and learning outcomes during simulation training. Med Educ. 2012;46(11):1055-1062. doi:10.1111/j.1365-2923.2012.04355.x
De Visser A, Hatfield J, Ellaway R, et al. Global health electives: Ethical engagement in building global health capacity. Med Teach. 2020;42(6):628-635. doi:10.1080/0142159X.2020.1724920
Crowshoe LL, Han H, Calam B, et al. Impacts of Educating for Equity Workshop on Addressing Social Barriers of Type 2 Diabetes With Indigenous Patients. J Contin Educ Health Prof. 2018;38(1):49-59. doi:10.1097/CEH.0000000000000188
Henderson RI, Williams K, Crowshoe LL. Mini-med school for Aboriginal youth: experiential science outreach to tackle systemic barriers. Med Educ Online. 2015;20:29561. Published 2015 Dec 23. doi:10.3402/meo.v20.29561
Whitfield K, LaBrie M. OA58 Community capacity development for enhanced hospice palliative care: exploring the value of community engagement. BMJ Support Palliat Care. 2015;5 Suppl 1:A18-A19. doi:10.1136/bmjspcare-2015-000906.58
Hetherington E, Eggers M, Wamoyi J, Hatfield JM, Manyama M, Kutz S, Bastien S. Participatory Science and Innovation for Improved Sanitation and Hygiene: Process and Outcome Evaluation of Project SHINE, a School-based Intervention in Rural Tanzania. BMC Public Health. February 2017. Volume 17:1, pp.  172.
Bharwani A, Kline T, Patterson M. Perceptions of Effective Leadership in a Medical School Context. Canadian Medical Education Journal, 10(3), e101-106.
Plamondon K, Walters D, Campbell S, Hatfield JM. Promoting equitable global health research: A policy analysis of the Canadian funding landscape. Journal of Health Research Policy and Systems. August 2017. Volume 15:72.
Traci Robinson, RN, BN; Data Santorino, MD; Mirette Dube, MSC; Margaret Twine, MD; Josephine N. Najjuma, RN; Moses Cherop, MD; Catherine Kyakwera, MD; Jennifer Brenner, MD; Nalini Singhal, MD; Francis Bajunirwe, PhD; Ian Wishart, MD; Yiqun Lin, MD, PhD; Helge Lorentzen, MSc; Dag Erik Lutnæs, RN; Adam Cheng, MD. Sim for Life Foundations: A Simulation Educator Training Course to Improve Debriefing Quality in a Low-Resource Setting. Society for Simulation in Healthcare DOI: 10.1097/SIH.0000000000000445 Empirical Investigations Vol. 00, Number 00, Month 2020
Ludwick T, Turyakira E, Kyomuhangi T, Manalili K, Robinson S, Brenner JL. Supportive supervision and constructive relationships with healthcare workers support CHW performance: Use of a qualitative framework to evaluate CHW programming in Uganda. Hum Resour Health. 2018;16(1):11. Published 2018 Feb 13. doi:10.1186/s12960-018-0272-1
Brenner JL, Barigye C, Maling S, et al. Where there is no doctor: can volunteer community health workers in rural Uganda provide integrated community case management?. Afr Health Sci. 2017;17(1):237-246. doi:10.4314/ahs.v17i1.29