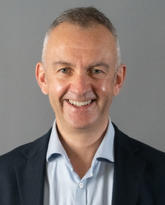 Philip Barber
Associate Professor of Neurology
Calgary Stroke Program
MBChB, MD, FRCPC, FRCP (Ed).
Biography
Dr. Barber is an Associate Professor of Neurology and Radiology at the University of Calgary where he is the Director of the Calgary Stroke Prevention Clinic and is a member of the Calgary Stroke Program.
Dr. Barber obtained his Undergraduate Medical Degree from the Sheffield University Medical School in 1991. He completed fellowship training in clinical and experimental stroke research under the mentorship of Dr. Alastair Buchan, and obtained his Doctorate of Medicine Degree from the University of Sheffield, UK in 2005. Dr. Barber is a Fellow of the Royal College of Physicians of Canada and of the Royal College of Physicians of Edinburgh.
His primary research interests include acute stroke evolution, biomarkers and MRI surrogates of cerebrovascular disease and neurodegeneration, and longitudinal case control studies.
He is the Principal Investigator of the Predementia Neuroimaging of Transient Ischemic Attack (TIA) (PREVENT Study), which is a prospective, longitudinal, case controlled study designed to determine preclinical detection of dementia in subjects at high risk of the condition many years before it develops. In his research he uses MR neuroimaging, cerebral spinal fluid outcome measures of Alzheimer's disease to investigate the effects of vascular risk factors and stroke on structural changes of the brain that lead to whole brain and regional brain atrophy in healthy populations and in patients with transient ischemic attack. He is a member of the Vascular Cognitive Impairment Team of Canada's National Research Strategy for Dementia - The Canadian Consortium for Neurodegeneration in Aging.
Dr. Barber's research accomplishments have been recognized by the Heart and Stroke Foundation of Canada with the Henry Barnett Scholarship (2005) and the University of Calgary Innovator Award (2005).