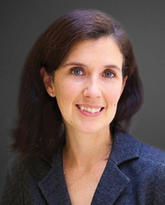 Lara Cooke
Professor of Neurology
Head, Section of Neurology
Biography
Dr. Lara Cooke was appointed as the Head of the Section of Neurology in 2019. She is a neurologist who completed her medical, residency, and fellowship training at the University of Calgary, after completing a Masters of Physiology at the University of Western Ontario. She has a subspecialty interest in headache medicine. She also completed graduate training in Medical Education at the Cumming School of Medicine.
Dr. Cooke has focused much of her energy in the area of medical education and leadership over the first fifteen years of her career. She served as the Cumming School of Medicine's first Assistant Dean of Faculty Development. In this role, she built the Teaching Scholars in Medicine Program and the Office of Faculty Development. She subsequently held other educational leadership roles in Calgary, including being the Neurology Residency Program Director, and the Associate Dean of Continuing Medical Education and Professional Development for the Cumming School of Medicine. She led the Calgary Office of the Physician Learning Program and is the current chair of the Physician Learning Program Provincial Steering Committee.
Dr. Cooke has also worked internationally and nationally as a Clinician Educator with the Office of Education at the Royal College of Physicians and Surgeons of Canada since 2002, when she was among the co-authors of the CanMEDS Communicator Role for CanMEDS 2005. Since then she has worked with the RCPSC on faculty development and the Competence by Design initiative.
Her research interests include residency education, program evaluation, and physician learning through audit and feedback.
In her new role in the Section of Neurology, she intends to continue to grow the academic profile of this outstanding group and to identify impactful strategies to enhance patient experience, equity, and physician well-being within the group.