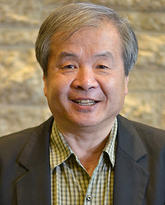 Bin Hu
Professor of Translational Neuroscience
Movement Disorders
Biography
Dr. Hu holds the Suter Professorship in Parkinson's Research and also co-directs the Movement Disorders and Therapeutic Brain Stimulation Program for the Department of Clinical Neurosciences and the Hotchkiss Brain Institute.
Dr. Hu obtained his medical degree from Shanghai, China in 1983. Subsequently, he came to Canada and obtained his Ph.D. in Neuroscience from Université Laval in 1989. He was a fellow of Fonds de Recherches en Sciences du Quebec and Medical Research Council of Canada at McGill University, and in 1991 he became a Medical Research Council Scholar and assistant professor with the Division of Neurology, University of Ottawa and Ottawa Hospital. Dr. Hu remained in Ottawa until 2003 before being recruited to the University of Calgary and AHS (then the Calgary Health Region).

Dr. Hu's scholar activities and research interests have long focused upon the brain networks that enable auditory learning and memory, language comprehension and music perception. Hu is best known for his seminal work on a number of small brain circuits that perform critical brain functions. Prominent examples include thalamic pacemaking neurons for EEG rhythm, bursting neurons in neurohormone secretion, thalamic tremor cells in Parkinson's disease, "cue" neurons in sensory processing and non-spiking neurons in temporal lobe development. He was among the first to have discovered that the non-lemniscal thalamocortical system is a specialized motivational neural circuit that utilizes auditory salience and behaviorally relevant cues to stimulate action.
As the founding head of the Division of Translational Neuroscience at UCalgary's Cumming School of Medicine and a trained physician, Dr. Hu is particularly interested in translating scientific knowledge and technological advances into tangible benefits to patients. He has led two large translational research teams that helped the launch of Canadian Ambulosono Project, an innovative non-pharmaceutical therapeutic program for Parkinson's disease. The scientific premise of Ambulosono is that the human brain has primitive but potent neural structures that can utilize sound, such as motivational music, to regulate movements. Although these structures remain relatively intact in Parkinson's disease, patients need to undertake specialized sensorimotor training to condition action to music cues for initiating desired movements. Ambulosono Project has now been introduced in six countries, helping many patients improve their quality of life. The project has also spurred many international collaborations and innovative activities in academic medicine, technological development, student training, public education, and community services and commercialization. Ambulosono Project has been cited by Canadian governments and funding agencies as an exemplary case in translational neuroscience research.
Dr. Hu is the recipient of many major research awards from a number of foundations and professional societies. His research has been supported by the Canadian Institute of Health Research (CIHR), Canadian Foundation for Innovation, Parkinson Society of Canada, Heart and Stroke Foundation of Canada, and the Ontario Mental Health Foundation. Dr. Hu has been invited as a distinguished speaker by many universities and private foundations, both nationally and internationally and his publications frequently appear in prestigious international journals. He has served as a member of grant review committees for the CIHR and the Heart and Stroke Foundation of Canada since 1995.