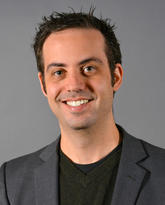 Colin Josephson
Associate Professor of Neurology
Calgary Comprehensive Epilepsy Program
MD, MSc, FRCPC, CSCN (EEG)
Biography
Dr. Josephson is a clinician-scientist in the Department of Clinical Neurosciences, O'Brien Institute for Public Health, and the Hotchkiss Brain Institute. He completed his medical school and neurology residency at Dalhousie University. He has completed fellowships in intracranial vascular malformations at the University of Edinburgh and epilepsy and EEG at the University of Calgary.
He is currently completing an MSc in Epidemiology. His research is focused on developing clinical decision rules for epilepsy. In addition, he has interests in evidence-based medicine, basic epidemiology, and on predictive modelling of diagnostic and therapeutic interventions for epilepsy.
He has been the recipient of the 2010 European Stroke Conference Young Investigator of the Year Award and has received funding through the 2014 American Brain Foundation/American Academy of Neurology/American Epilepsy Society/Epilepsy Foundation Susan S. Spencer Clinical Research Training Fellowship in Epilepsy, a 2014 Alberta Innovates Health Solutions (AIHS) Clinician Fellowship recipient and a 2013 Canadian Institutes Health Research (CIHR) Fellowship.