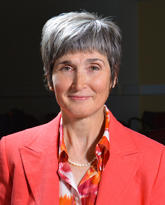 Zelma Kiss
Professor of Neurosurgery
Functional/stereotactic neurosurgery, neuromodulation
Biography
Dr. Zelma Kiss is a Clinical Scholar of the Alberta Heritage Foundation for Medical Research, now called Alberta Innovates Health Solutions (AIHS). As a functional and stereotactic neurosurgeon, she directs the program in Neuromodulation for southern Alberta. She is the Director of the Clinician Investigator Program at the University of Calgary.
Dr. Kiss completed her MD at the University of Ottawa in 1988. After a surgical internship she moved to Toronto for training in neurosurgery in 1989. During the course of her residency she completed a four-year research program defending her PhD at the University of Toronto in 1998 under the mentorship of Drs. Jonathan Dostrovsky and Ron Tasker. She won the Van Wagenen fellowship from the American Association of Neurological Surgery to pursue further post-doctoral training in France with Professor Alim-Louis Benabid, the father of deep brain stimulation for movement disorders.
Dr. Kiss's research interests have focused on the mechanisms of action of deep brain stimulation for movement disorders since her return to Canada in 1998, first at the University of Ottawa and at the University of Calgary since 2000. Throughout both her training and early years on faculty she has received numerous awards and grants to further her research program and has been published in Nature, Journal of Neuroscience, Brain, and others. She serves on the editorial board of the Journal of Neural Engineering and is a member of the Parkinson Society of Canada Scientific Advisory Board. Her recent research has extended to the development of neural prostheses to restore sensorimotor function, psychiatric indications for deep brain stimulation, and new neuromodulation therapies for pain.
Clinically, Dr. Kiss is a functional neurosurgeon treating movement disorders, psychiatric disorders, epilepsy and pain, including trigeminal neuralgia and headache. In addition to this, Dr. Kiss is actively involved in training of residents, post-doctoral fellows and graduate students. She also established and directs the University of Calgary Royal College Clinician Investigator Program.
In her free time, she participates in the local Rocky Mountain culture, from hiking, canoeing and back-country skiing, to attending and supporting environmental and arts causes in the Bow Valley.