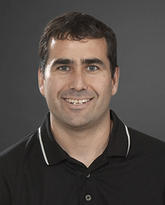 Stephen McNeil
Clinical Professor of PM&R
Stroke, Spasticity, Neuromuscular Rehabilitation, EMG
Biography
Dr. Stephen McNeil is a Clinical Professor for the Department of Clinical Neurosciences at the University of Calgary.
Dr. McNeil received his Bachelor of Science Degree (Human Kinetics) from the University of Guelph in 1994. He obtained his medical degree from McMaster University in 1997 and completed his residency training in Physical Medicine and Rehabilitation at the McMaster University in 2002.
Dr. McNeil has been practising in Calgary since 2002. His clinical practice is focused on the areas of stroke rehabilitation, spasticity management, neuromuscular rehabilitation and electromyography. He is the current medical director of the stroke rehabilitation and spasticity programs at Foothills Hospital.
Dr. McNeil is involved in teaching at the undergraduate, residency and practicing physician level. He has been an invited speaker at national meetings in the area of chemodeinnervation for spasticity management. He is a member of the Residency Training Committee and is also on the national neurophysiology (EMG) exam committee. He is on the executive committee of the Canadian Association of Physical Medicine and Rehabilitation and was scientific chair of the Canadian PM&R meeting (2009).