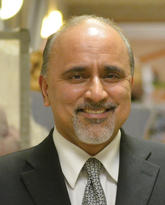 Rajiv Midha
Professor of Neurosurgery
Peripheral Nerve Surgery Program
Department Head, Clinical Neurosciences
Biography
Dr. Rajiv Midha was born in India in 1962 and immigrated to North America in 1972. He received his medical degree (1987), MSc (under Susan Mackinnon's supervision in 1991), and neurosurgical training (completed in 1995), all from the University of Toronto. He obtained clinical fellowships in peripheral nerve neurosurgery at St. Michaels' Hospital in Toronto, and at Louisiana State University (under David Kline).
Dr. Midha has published over 115 peer-reviewed articles, as well as in textbooks, with over 300 total publications, mostly related to peripheral nerve neurobiology and surgery. He has co-edited two textbooks on peripheral nerve surgery. Dr. Midha runs an AI-HS funded basic science laboratory investigation nerve regeneration, and is a Neuroscientist member of the Hotchkiss Brain Institute (HBI) at the University of Calgary. He has a special interest in peripheral nerve function, injury, repair, grafting, and regeneration. In the recent past, the main thrust of the research lab has been on developing novel cell based therapies to improve outcome from nerve repair.
Dr. Midha is presently Professor and Head of the Department of Clinical Neurosciences (and was recently the Chief, Division of Neurosurgery) at the University of Calgary. The Department of Clinical Neurosciences is highly academic, composed of 95 Faculty members, and is organized into the Divisions of Neurology, Neurosurgery, Physical Medicine and Rehabilitation and Translational Neurosciences. All areas of sub-specialization in neurology, neurosurgery and physiatry are covered, and each clinical division has strong residency training program as well as multiple Fellowships.