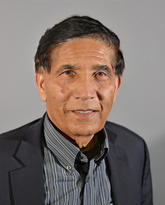 Neelan Pillay
Clinical Professor of Neurology
Epilepsy, EEG fMRI, Neuromodulation
MB ChB FCP (SA) MRCP (UK) FRCPC
Biography
Dr. Pillay graduated with his medical degree from the University of Natal, South Africa in 1968. He was an internist in South Africa (FCP) in 1973, and was then appointed as the Principal Physician and Senior Lecturer, Department of Medicine, King Edward VIll Hospital, University of Natal. In 1975 he was granted the Ernest Oppenheimer Travelling Fellowship in neurology at the Regional Neurological Institute, Newcastle upon Tyne, England. After immigrating to Canada in 1977, Dr. Pillay completed fellowships in general neurology, Epilepsy, and EMG at the University of Western Ontario. In 1980 he accepted a faculty position at University of Manitoba as Director of Epilepsy and EMG in Division of Neurology, where he established the epilepsy program. Dr. Pillay then became the Division Head of Neurology and Residency Program Director before being recruited to Calgary in 1998, where he was Deputy Head, Department of Clinical Neurosciences from 2001 to 2003.
Dr. Pillay has participated as principal investigator in many epilepsy clinical drug trials. He is the co-investigator in a NIMH multicentre pre-psychosis clinical trial in Calgary, and in 2007 Dr. Pillay completed a one-year sabbatical at the Brain Research Institute in Melbourne, Australia – researching EEG fMRI in secondary generalized epilepsy and language fMRI in pre and post temporal lobe epilepsy surgery. He is continuing the functional imaging research in Calgary.
His external services have included President of Canadian Neurological Society (1997-99), President of Canadian Neurological Congress (1998-99), Royal College Evaluation Committee (1992-98), Royal College Neurology examiner (1991-96), and examiner in EEG and EMG for the Canadian Society of Clinical Neurophysiologists.