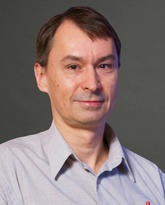 Peter Stys
Professor of Neurology
Calgary Stroke Program
Biography
Dr. Stys completed his medical studies at the University of Ottawa. He went on to complete his specialty training in Neurology at the University of Toronto, then engaged in post-doctoral studies at Yale University, supported by a Centennial Fellowship from the Medical Research Council (CIHR). There he worked on the fundamental mechanisms of injury to nerve fibres in the brain and spinal cord. In 1992 he returned to Canada to set up his own research laboratory and an academic clinical neurological practise, at the Civic Campus of the Ottawa Hospital. In 2007, he was recruited to the Hotchkiss Brain Institute (HBI) at the University of Calgary.
Dr. Stys is a neurologist/neuroscientist and a world leader in the detailed study of pathophysiological mechanisms of white matter injury in stroke and trauma. He has extensive expertise in electrophysiological recording methods in myelinated axons, and his team has recently developed confocal, multi photon and coherent anti-Stokes Raman scattering (CARS) imaging techniques for both fixed immunostained and live myelinated axons and glial cells.
Dr. Stys' team discovered several novel injury mechanisms responsible for axo-glial damage in ischemia/trauma and glutamate excitotoxicity, due to reversal of Na-dependent glutamate transport in damaged spinal axons. Dr. Stys' insights provide a rational basis for devising drug therapy for the acute phases of stroke, spinal cord injury, brain trauma, and neuroinflammatory conditions (such as EAE/MS), in which axons, oligodendrocytes, and myelin are prominent targets of damage.
Dr. Stys is the recipient of the Dr. Frank LeBlanc Chair in Spinal Cord Research, Canada Research Chair (Tier 1) in Axo-glial biology, and Alberta Heritage Foundation for Research (AHFMR) scientist award. He is an Adjunct Research Professor at the Department of Systems and Computer Engineering at Carleton University, an Adjunct Professor at the Cumming School of Medicine at the University of Calgary, an Adjunct Professor at the Faculty of Medicine at the University of Ottawa and a Visiting Assistant Professor at the Department of Neurology at Yale School of Medicine. In addition, Dr. Stys has published 88 peer reviewed articles, 17 book chapters, and two books. His work is supported by a number of important funding partners (in addition to the ones mentioned above), including the Canadian Foundation for Innovation (CFI), Canadian Institutes for Health Research (CIHR), Multiple Sclerosis Society of Canada, Neuroscience Canada, HBI, Canadian Stroke Network (CSN), NSERC, Alberta Paraplegic Foundation, Adelson Foundation for Medical Research, and the National Institutes of health (NIH).