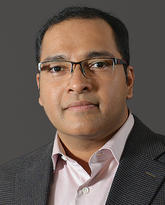 Suresh Subramaniam
Clinical Associate Professor of Neurology
Neuro-Ophthalmology, Neuro-vestibular, Stroke
Biography
Dr. Suresh Subramaniam is a neurologist in Calgary with fellowship training in Stroke, Neuro-Ophthalmology and Neuro-Otology. Dr. Subramaniam is a Clinical Associate Professor of Neurology & Ophthalmology at the Departments of Clinical Neurosciences and Surgery, Cumming School of Medicine, University of Calgary.
Dr. Subramaniam served as the Site Chief of Neurology at South Health Campus between 2016-19. He is the director of Neuro-Ophthalmology and Neurovestibular programs. He completed a five-year adult Neurology Residency training, Master of Science degree in Neuroscience, Cerebrovascular diseases fellowship, Neuro-Ophthalmology and Neuro-Otology fellowship from the University of Calgary.
Dr. Subramaniam works as a Stroke Neurologist at the Calgary Stroke Program (Foothills Medical Center), Neuro-Ophthalmologist at the Eye Clinic (Rockyview Hospital) and Neuro-Otologist at the Neurovestibular Program (South Health Campus).
Dr. Subramaniam's main research interests include intracerebral hemorrhage, acute ischemic stroke, vascular diseases of the optic nerve and retina, acute vertigo and, medical education. He was a sub-investigator in the idiopathic intracranial hypertension treatment trial (IIHT) that was published in the Journal of American Medical Association in 2014. He has published extensively in several top-tier international medical journals including Lancet Neurology and New England Journal of Medicine.
Dr. Subramaniam is a member of the Royal College of Canada Examination Board in Neurology. He is passionate about teaching and has won numerous teaching awards at the Cumming School of Medicine, University of Calgary including the Keith Brownell Neurology teaching award, Member of Honour Roll for pre-clerkship teaching, Best teacher award and, William Fletcher Neuro-Ophthalmology award. He is actively involved in teaching medical students, neurology and ophthalmology residents and stroke fellows.