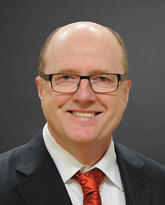 Garnette Sutherland
Professor of Neurosurgery
Image-Guided Medical Robotics Programs
Biography
Dr. Garnette Sutherland is a Professor in the Department of Clinical Neurosciences, University of Calgary.
Dr. Sutherland received his undergraduate education in both science and medicine at the University of Manitoba, Winnipeg, Manitoba (1974 and 1978 respectively). His post-graduate education was completed in 1984 at the University of Western Ontario, London, Ontario. That year, he was appointed Assistant Professor of Surgery (Neurosurgery) and Pharmacology at the University of Manitoba and promoted to Associate Professor at the same university in 1988. In 1993, he accepted the position of Professor and Head of Neurosurgery, Department of Clinical Neurosciences, University of Calgary, Calgary, Alberta and was Head until 2003.
Dr. Sutherland has made a number of contributions to science and medicine, as reflected by 166 abstracts, 136 peer-reviewed publications, 16 monographs or book chapters, and five patents. His major research focus has been the application of MR techniques to the study of neurological diseases. He has been able to attract millions of dollars through a number of local and national grant competitions and has received a number of awards over the years, including the Manning Award of Distinction for the development of a Intraoperative MR system based on a movable 1.5 Tesla magnet, and the Federal Partners in Technology Transfer in 2007. Dr. Sutherland is also the Founding Director of the Seaman Family MR Research Centre, and has received multiple international invitations and has made presentations in Australia, Asia, Europe, Hawaii, New Zealand, and North America. In 2012, Dr. Sutherland was awarded The Order of Canada award for his outstanding contribution to neurosurgery.