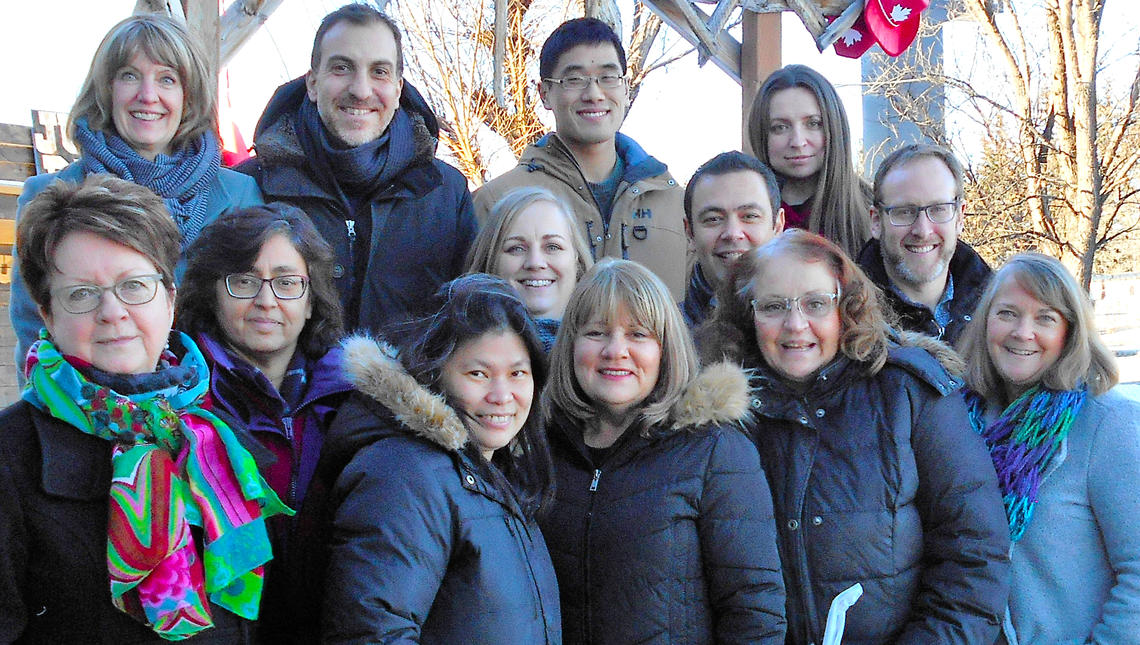 Welcome to the University of Calgary Movement Disorders Clinic
This website is intended for our patients and their families and friends.
We are a multidisciplinary clinic dedicated to the treatment of Parkinson's Disease and other movement disorders (eg, Huntington's Disease, dystonia, Essential tremor, other parkinsonian syndromes). The clinic has existed at the University of Calgary since the 1980s.  We are located in the University of Calgary Medical Clinic (UCMC, Area 3) adjoining the Foothills Hospital in northwest Calgary.
Our clinic includes the expertise and services of five neurologists (all of whom have subspecialty training in  Parkinson's Disease and other movement disorders),  one neurosurgeon (deep brain stimulator programme), two psychiatrists, six registered nurses and a social worker. All our health care professionals have specialized knowledge about Parkinson's Disease and other movement disorders.
What to expect at your clinic visits
Your first clinic visit will be scheduld for an hour or so. Please arrive at the clinic 30 minutes early in order to find parking, check in with the receptionist and ensure we have your up to date contact and other information. Please do not be late for your clinic visit out of consideration to other patients attending the same clinic that day. We recommend that you bring a family member or friend who knows you well; friends or family are often very helpful in providing our team with extra information during the visit.
One of our nurses will welcome you and bring you into one of the clinic rooms. She will briefly review the reason for the clinic visit and then ensure that we have a detailed list of current medications you are taking, so please be sure to bring a list of all medications. She will then ask you about concerns that you wish addressed at this first meeting.
You will then be seen by a physician. This physician could be a resident, who is a physician undergoing further medical training in neurology or another area of medicine. If you are first seen by a resident, this doctor will take your history and examine you. He or she will then review your information with your neurologist. You will then meet with the neurologist and resident and they will discuss their assessment,  decide on a plan of treatment and tests and answer any questions that you may have. If there is no resident in clinic that day, you will meet with your neurologist.  
Medication may be prescribed and we will review how to take new medications with explanation of potential side effects. Please also note that your neurologist may decide to refer you for assessment to one of our two clinic psychiatrists, as patients with Parkinson's Disease and other movement disorders, often have depression or other mood problems that benefit from treatment.
This is your chance to have your questions answered! You can expect your first visit to take 60 to 90 minutes.
Your neurologist will then send a letter with his/her assessment and recommendations for you to your family doctor. Your family doctor is an integral part of your health care team and we will keep them informed of your clinic visits.
After the first clinic visit
In our clinic, most patients need followup over months and years, so after your first visit we will arrange for you and your family to come back for a followup visit, and for periodic followup visits. Parkinson's Disease and other movement disorders change over time and require ongoing medical expertise, so receiving ongoing support from our clinic through periodic visits is a good idea.
However, if you run into difficulty before your next visit we would like you to call  and share your concerns with our clinic nurses. Please call 944-4364, choose option 5, and leave a voicemail with your personal information, spelling of your name, date of birth, and  phone number contacts as well as a brief description of your concerns. One of our nurses will call you back, ask you about your concerns and take down detailed information about your medical problem. If this problem is related to your movement disorder, the nurse will review this information with your neurologist, and call you back with a plan to improve your concerns. This may involve changing medication schedules or doses, or changing medications as well as referral to other members of our team. In addition, our nurses can help to connect you to resources in the community, such as physiotherapy, Home Care or community agencies that support different movement disorders.
It may be that you are calling with concerns that do not relate to your movement disorder and if this is the case, we will ask you to be in touch with your family doctor about your concerns. For this reason and others, it is important to have a family doctor.
Please note that we address many patients' concerns over the phone; this is particularly helpful for out of town patients who do not live in Calgary. However, because of the number of patients who call our clinic, it may take up 3 business days, sometimes longer, for our nurses to call you back to review your concerns. Also, please note that our nurses are only available on weekdays, not on weekends or holidays, so if your concerns seem pressing, please call your family doctor during regular office hours or HealthLink  Alberta any time (403-943-5465 in Calgary or 1-866-408-5465 toll-free throughout Alberta),   or go to your local Emergency Room.
Some patients have expressed some frustration over the telephone tree and voicemail encountered on calling our clinic. Because  our clinic is very busy from the many, many patients who attend our clinic, it is, unfortunately, simply impossible to have a live person answering the phone.
Followup clinic visits
Your followup visit will typically not be as long as your very first visit, usually in the range of 30 minutes or so. As with the first visit, you will be notified of the time by letter. As with the first visit, one of our nurses will bring you into the clinic room, obtain an accurate list of your medications and ask you about any concerns you have since your last visit.
Please bring a list of all medications you are taking, including doses of each medication, to each clinic visit.
You will then be seen by your neurologist who will ask you how you are, review medications and side effects and the two of you will decide how to treat your movement disorder. Any investigations that were ordered previously will be reviewed.  Again, this is your chance to answer questions. Typically, your neurologist will arrange for further, ongoing followup.
Prescription renewals
Please remember to ask your neurologist for a new medication prescription during your visit. However, should you run out of medications between visits, and you are seen in our clinic on a regular basis, you may ask your pharmacist to fax a prescription renewal to our office. This will take a few working days.
Forms to be completed
From time to time, you may need your neurologist to complete various forms for you. We would suggest that you either bring these forms with you to your clinic visit or send them to our clinic with an explanation of what needs to be done. Your neurologist will not be able to complete the forms during the clinic visit, but once these forms are completed, they will be returned to you. Please note that there is typically a fee associated with our doctors taking the time to complete various forms.
Registered Nurses
Karen Hunka (surgical nurse)
Nancy Labelle
Pia Lawrence (surgical nurse)
Lorelei Tainsh
Carol Pantella
Eric Tse
Meliza Camerino
Robyn Warwaruk (surgical nurse)
Clerical Team
Karen Mills
Janis Querido
Bonita Woytowich
Social Worker
Melinda Hatfield
Psychiatrists
Dr Jeremy Quickfall
Dr Aaron Mackie
Dr Brienne McLane
Psychologist
Dr. Angela Haffenden
Geriatrician
Dr. Zahra Goodarzi
Research Scientists
Botulinum toxin treatment
Certain movement disorders (dystonia, hemifacial spasm) are treated with Botulinum toxin. The neurologists in the University of Calgary Movement Disorders clinic have subspecialty training in the use of this drug.
If botulinum toxin is the right medication for you, your neurologist will explain its use and arrange for you to receive this medication during clinic visits.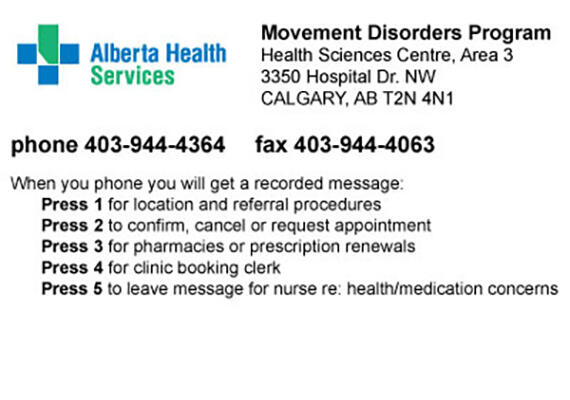 Parking at Foothills Medical Centre
The new Central Parking (Lot 1) is now open.
Limited spaces are also available in North Parking (Lot 6) — which is closer to the UCMC clinics — and West Parking (Lot 10).