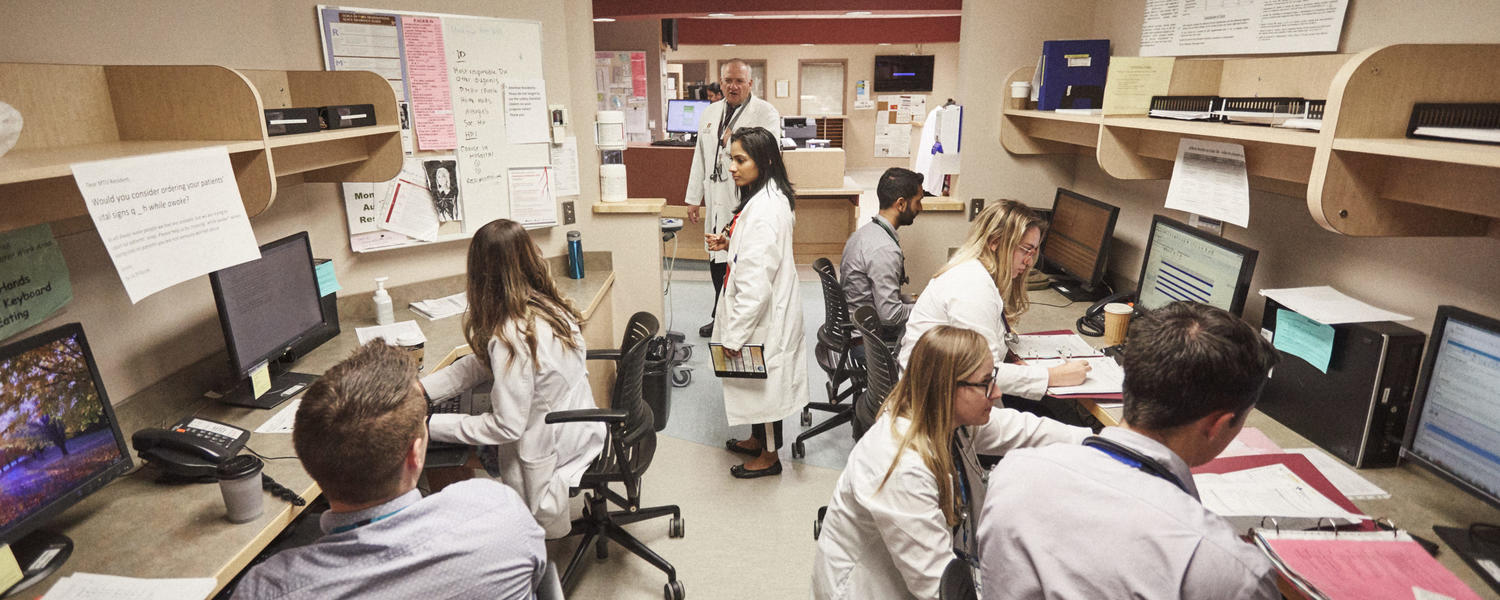 Continuing Medical Education
In the Division of Rheumatology, we believe in providing educational opportunities to everyone we work with. This includes not only our trainees and patients, but also our peers—those who refer to us and those we refer to. Engaging in continuing medical education activities with our colleagues makes for better, more efficient referrals. Most importantly, we believe this approach results in better care for our patients both before and after our interactions with them.
We offer extensive continuing medical education (CME) through the Division of Rheumatology. Our major CME undertaking is a full-day seminar that we run every other year, aimed at both new and experienced family doctors and rheumatologists. A mix of large and small group sessions led by multiple members of our division, this seminar also includes hands-on exam and injection technique training. The event, which is CCFP accredited, has typically been well received.
Program information, scheduling and registration information for this seminar can be found here.
Our division also hosts weekly Rheumatology Rounds, discussing a variety of topics. These are open to all members of our division, at all hospital sites, and our community members, as well. Rounds occur every Wednesday.
If you're a physician or researcher and believe you have an area of mutual interest you would like to present to the group, please contact Dr. Gary Morris for scheduling information and guidance on its appropriateness. If you're aware of other groups who share a mutual area of interest, or an area they wish to learn more about, please contact Dr. Steven Thomson if you would like to have a member of our division provide an educational session.
Rounds schedule
Rheumatology Rounds will be held in-person at the Health Sciences Centre and virtually via Zoom.  Our division also hosts Rounds presentation from members of the Department of Radiology.  For more information please contact Ellen Lee (elllee@ucalgary.ca).
Sept. 6, 2023
Rounds cancelled for Divisional Business Meeting
Sept. 13, 2023
Presenters:
Dr. M Jung (topic presentation from 8 to 8:50 am)
Dr. E Spence and STAFF cases (resident and STAFF case presentations starting at 9 am)
Sept. 20, 2023
Presenters:
Dr. G Morris (topic presentation from 8 to 8:50 am)
Drs. C Ray and M Sosniuk (resident case presentations starting at 9 am)
Sept. 27, 2023
Presenters:
TBA (topic presentation from 8 to 8:50 am)
Dr. E Krustev (resident Journal Club presentation starting at 9 am)
Oct. 4, 2023
Presenters:
Dr. A Kobza (topic presentation from 8 to 8:50 am)
Drs. M Powell and E Di Gravio (resident case presentations starting at 9 am)
Oct. 11, 2023
Presenters:
Dr. S Garner (topic presentation from 8 to 8:50 am)
Drs. N Sepehrvand and A Kobza (resident case presentations starting at 9 am)
Oct. 18, 2023
Presenters:
Dr. E Krustev (topic presentation from 8 to 8:50 am)
Drs. N Tinney and M Bowen (resident case presentations starting at 9 am)
Oct. 25, 2023
Presenters:
Drs. S Bartlett an C Bingham (topic presentation from 8 to 8:50 am)
Dr. Z Touma (topic presentation starting at 9 am)
Rounds Coordinator
Division of Rheumatology - Education
Director, CME Program
Division of Rheumatology - Education