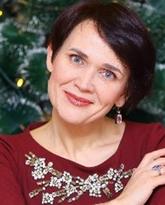 Olga Ziouzina
Clinical Assistant Professor
Division of Rheumatology
Rheumatologist
Richmond Road Diagnostic and Treatment Centre
Rheumatologist
Associate Clinic
Clinical Research Fellowship in Psoriatic Arthritis and Lupus
Toronto Western Hospital
Residency, Rheumatology
University of Calgary
Residency, Internal Medicine
University of Calgary
MD
University of Manitoba
Preferred method of communication
For all inquiries, please contact Dr. Ziouzina's clinical assistant, Danielle.
Research
Research areas
Spondyloarthritis
Psoriatic arthritis
Uveitis
Biography
Dr. Olga Ziouzina is a clinical assistant professor at the Cumming School of Medicine in the Division of Rheumatology. Her professional interests include both clinical work and research in spondyloarthritis, psoriatic arthritis and uveitis.
In addition to her work as a professor, and together with several other doctors, Dr. Ziouzina also helps run a combined, multidisciplinary uveitis clinic in Calgary, which plays a main role in creating a clinic database for uveitis. She's also an active member of a Women in Rheumatology group.