At Science in the Cinema, watch a film with a health science theme and then listen as an expert explains the science behind the movie. An interactive question and answer period follow each movie. Admission and popcorn are free for all attendees. Registration is appreciated for popcorn pre-orders but not required as seating is strictly first-come, first-serve. Registration does not guarantee seating.
Please note new location for this film: Calgary Central Library, 800 3 St. SE, Calgary, AB T2G 2E7.
Can you hear my voice?: June 20, 2023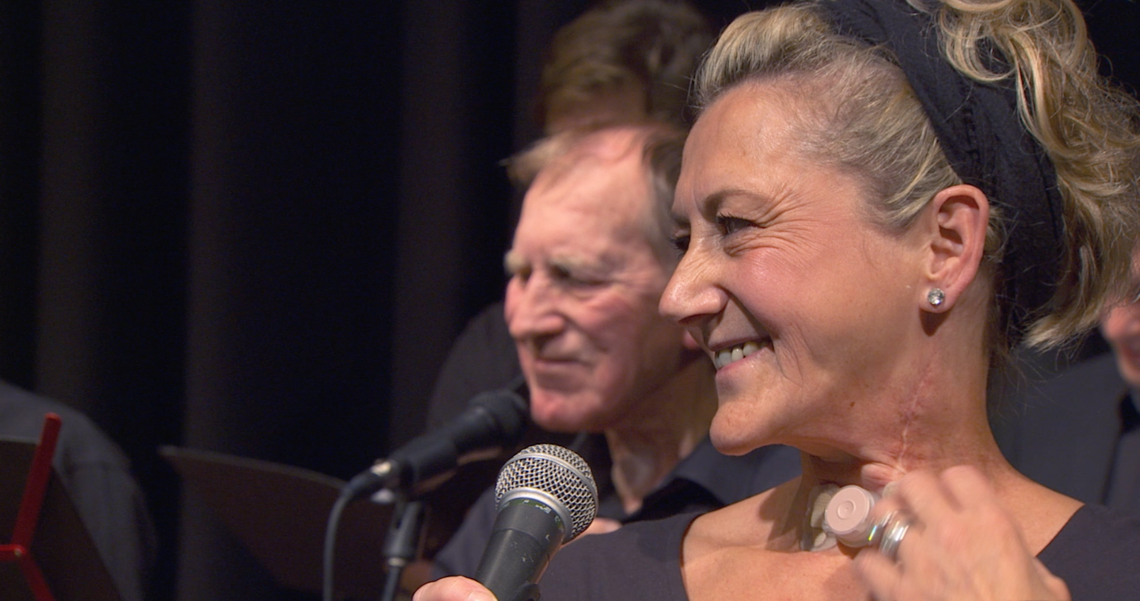 About the film:
Join us for Calgary's first screening of the award-winning film Can You Hear My Voice?, chronicling the story of UK-based choir Shout at Cancer. After losing their vocal cords to cancer, members regain their voice through a community of song as they prepare for their most ambitious concert - a sold-out performance at London's historic Tabernacle Theatre.
After the movie, hear from producer and award-winning filmmaker Bill Brummel, who had his own voice box removed in 2016. He is joined by patients, University of Calgary researchers, clinicians, and care teams dedicated to giving patients a voice and providing those facing a cancer diagnosis with the best outcomes possible.
Date: Tuesday June 20, 2023
Doors Open: 5:30 p.m.
Begins at: 6:00 p.m. 
Where: Calgary Central Library
Register today to guarantee your spot.
Speakers:
Dr. Joe Dort, MD, is an otolaryngologist, head and neck surgeon, and professor in the Departments of Surgery, Oncology and Community Health Sciences, Cumming School of Medicine (CSM), University of Calgary. He is a member of the Arnie Charbonneau Cancer Institute and has dedicated years to the Ohlson Research Initiative, a clinical translational research program focused on head and neck cancer. Dr. Dort has been active in leading healthcare quality improvement initiatives and is passionate about working with colleagues to design and implement better ways to deliver patient care.
Bill Brummel is a Peabody Award and International Documentary Award-winning filmmaker, and five-time national Emmy award nominee, who had his own voice box removed in 2016. After finishing the film "Can You Hear My Voice?", Brummel become a speaker on the psychosocial issues of cancer survivorship, especially head and neck cancers. As a 24-year cancer survivor and after years speaking with a voice prosthesis, Brummel tells his story and addresses the stress, isolation, and despair that often accompanies the disease.
Dr. Linda Carlson, PhD, holds the Enbridge Research Chair in Psychosocial Oncology, is an Alberta Innovates – Health Solutions Health Scholar, a professor of psychosocial oncology in the Department of Oncology, CSM, and adjunct professor in the Department of Psychology, Faculty of Arts, UCalgary. Her work focuses on screening for cancer-related distress, integrative oncology interventions (including mindfulness and complementary medicine approaches), survivorship and diversity. Some of Dr. Carlson's areas of study include assessing issues around increased risk for future malignancies, fears of recurrence and return to work issues. She is also a clinical psychologist and director of research in the Department of Psychosocial Resources at the Tom Baker Cancer Centre, and is a member of the Arnie Charbonneau Cancer Institute.
Dr. Julie Deleemans, MSc, PhD, is a stage 4 laryngeal cancer survivor, diagnosed in 2006 at the age of 18. She is a postdoctoral research fellow in the Department of Oncology, CSM, whose doctoral research investigates the long-term effects of chemotherapy on the gut microbiome, and how this relates to physical and mental health outcomes in cancer survivors. Through her research and advocacy work, Dr. Deleemans is passionate about helping others affected by cancer. She is co-founder and vice chair of AYA CAN, a peer-led national organization advocating for Canadian adolescents and young adults (AYA) affected by cancer.
Dr. Wayne Matthews, MD, is an otolaryngologist, head and neck surgeon, with advanced training in head and neck oncologic and reconstructive surgery. He is an associate professor in the Department of Surgery, CSM, where he initiated the UCalgary Otolaryngology – Head and Neck Surgery Resident Training Program. Dr. Matthews is a member of the Arnie Charbonneau Cancer Institute and he serves as the executive director of the Ohlson Research Initiative.
Alanna McDonough is a speech language pathologist, with a primary focus on head and neck cancer rehabilitation. Alanna has spent 30 years with Alberta Health Services, working closely with the head and neck surgery team throughout her tenure. Alanna's clinical caseload has focused on both the laryngectomy population and dysphagia resulting from surgery and/or treatment for oral and oropharyngeal cancers. Alanna has contributed to research in the area of dysphagia and issues resulting from head and neck cancer and it's treatment.