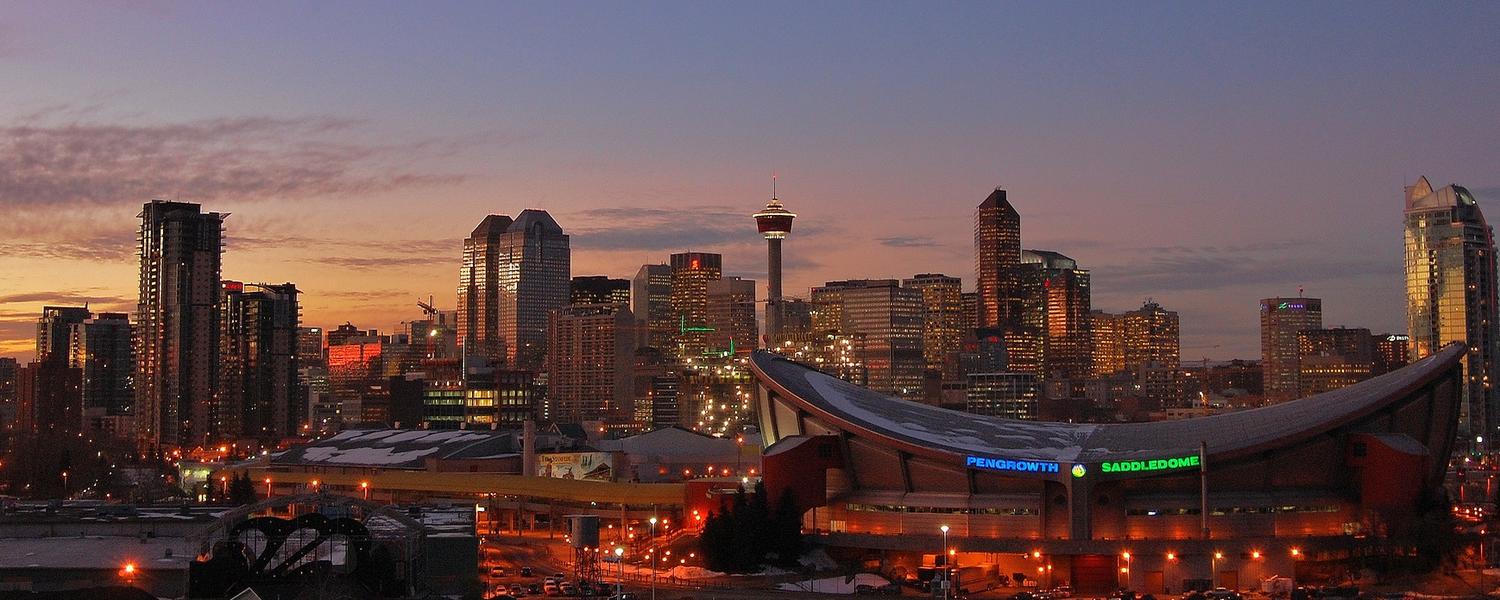 Diabetes Educators Calgary Charting Guidelines
IDNN (Inpatient Diabetes Nurse Navigator)
IDNN (Inpatient Diabetes Nurse Navigator)
Login department is Calgary Zone Endocrinology
1. Log in to Connect Care as a "Consult Nurse" in the department Calgary Zone Endocrinology.
2. One time only: Create "My Favorite Lists" to add the following. Note that only sites that have gone live already will be available. For sites that have not yet gone live, use SCM.
CGY Peter Lougheed Centre > New Consult-Ancillary > Diabetes Educator
CGY Foothills Medical Centre > New Consult-Ancillary > Diabetes Educator
CGY Rockyview General Hospital > New Consult-Ancillary > Diabetes Educator
CGY South Health Campus > New Consult-Ancillary > Diabetes Educator
Check the folder several times per day for Consult requests.
3. For consult requests:
Review the chart (see below)
Add your note.

Very important** Use Type = Progress Note.
Use "Smart Phrases" to make charting quicker. All IDNN smart phrases start with .IDNN
Route the note to specific providers, if desired.

When your consult is complete, go to Patient List > Single click on patient > Rapid Rounds > Ancillary Consults > Click "Complete"
**VERY IMPORTANT** If you see a tab "Attendance/Visit"... this is for stats. 

If you had an an encounter with a patient that was not scheduled to you, you need to document on that tab. e.g. choose "Visit with Allied Health or Specialty Encounter"  or if you spoke to family and the patient was not present, choose "Phone/Virtual Allied Health Specialty Visit with inpatient's family/significant other"
If do not have an encounter with the patient, e.g. interact with the nursing unit staff only, you do not record activity. 
Navigate Resources for Declined Patients
CAT puts declined patient referrals in Diabetes shared drive → Restricted_IP
Nurse Navigator makes note of Connect Care site or not. If it is a CC site:
Search Patient on CC
Click Telephone Call

Enter the referring provider > Accept

Click Outgoing Call
Map out a plan of resources that would best fit the patient's needs in the My Notes section

Letting them know patient has been declined but they will navigate resources for them
See if they are following up with anyone (e.g. Family doctor)

Click Accept
Click Sign Encounter
Send note to referring physician and/or family doctor letting them know that Diabetes Centre will not be following up with pt (declined referral) and provided pt with resources.
Nurse Navigators use a 14 day window to reach pt. Within the 14 days, they will try to call them a few times. If unable to reach, they make note of it and close the file.
Storyboard (left side of screen) - Age, pt. location, diagnosis, etc
Summary tab

Overview Tab – shows meds and when they were given last, Blood glucose results the last 24 h.
Plan of Care – shows Care Team info, outpatient meds
Glucose Management – graph of glucose levels, insulin doses given (helpful with s/s)

Results review tab

Click on blood -> endocrine -> diabetes – it shows trend of A1c, glucose, glucose meter, etc over time.

Orders tab

Can find info about the consult here (ie, reason for referral and referring provider).  Scroll down to Consults and Referrals > hover over the order > click on a little notepad on the right side (see screenshot below)

Notes tab

Can find all notes, progress notes (hx and physical admitting notes
This is where the IDNN charts, by creating "new note".  Route the note to the ordering provider.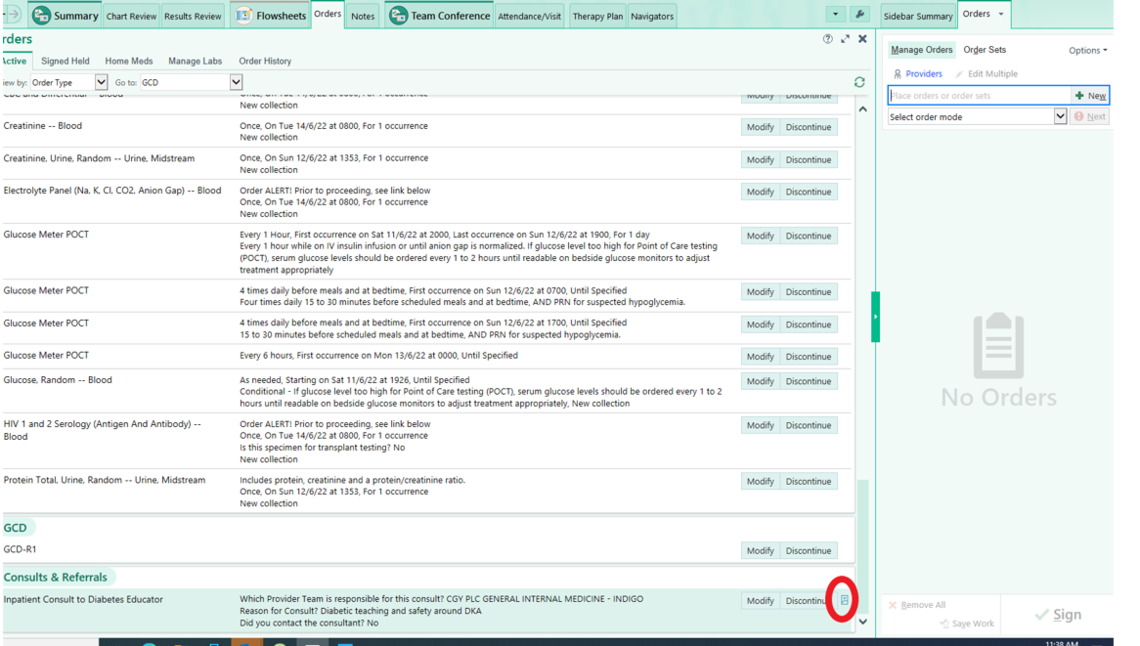 Making Smart Phrases Available to You:
See this link for a video demonstration of adding smart phrases and customizing your speed buttons. See this page for textual step-by-step directions.
IDNN Smart Phrases
| Name | Description |
| --- | --- |
| IDNNACCEPTED | Notification that the patient will be directly assisted by the IDNN. |
| IDNNAHLP | Informing in-patient staff re process for AHLP services. |
| IDNNARD | Informing in-patient staff re having the patient seen at site outside of the Calgary zone after discharge. |
| IDNNAWAY | Informing other clinical providers that the IDNN is away and there's no coverage. |
| IDNNCWPCN | Informing in-patient staff re having the patient seen at Calgary West Central PCN after discharge. |
| IDNNDCC | Informing in-patient staff re process for referring to DCC. |
| IDNNDEFERRED | Directing to other resources. |
| IDNNDEFNOTE | General chart note for deferred referrals |
| IDNNDKA | Teaching/resources provided to patient re DKA prevention and treatment. |
| IDNNFPCN | Informing in-patient staff re having the patient seen at Foothills PCN after discharge. |
| IDNNHHS | Teaching/resources provided to patient re HHS prevention. |
| IDNNHYPO | Teaching/resources provided to patient re hypoglycemia. |
| IDNNINS | For informing in-patient staff re process for insulin teaching. |
| IDNNMET | For informing in-patient staff re process for meter teaching. |
| IDNNMPCN | Informing in-patient staff re having the patient seen at Mosaic PCN after discharge. |
| IDNNNBBIT | Informing in-patient staff re BBIT information. |
| IDNNNEWDM1 | Notification of teaching/resources provided to patient with new diagnosis of T1DM. |
| IDNNPREG | For informing in-patient staff re next steps considering diabetes in pregnancy. |
| IDNNPUM | Informing in-patient staff re information about the insulin pump while in hospital. |
| IDNNREFERRAL | Notification regarding what type of patient is directly assisted by the IDNN. |
| IDNNRESOURCES | Request to print off resources for patient. |
| IDNNRUR | Informing in-patient staff re having the patient seen at a rural site after discharge. |
| IDNNSTE | Teaching/resources provided to patient re effects of steroid therapy. |