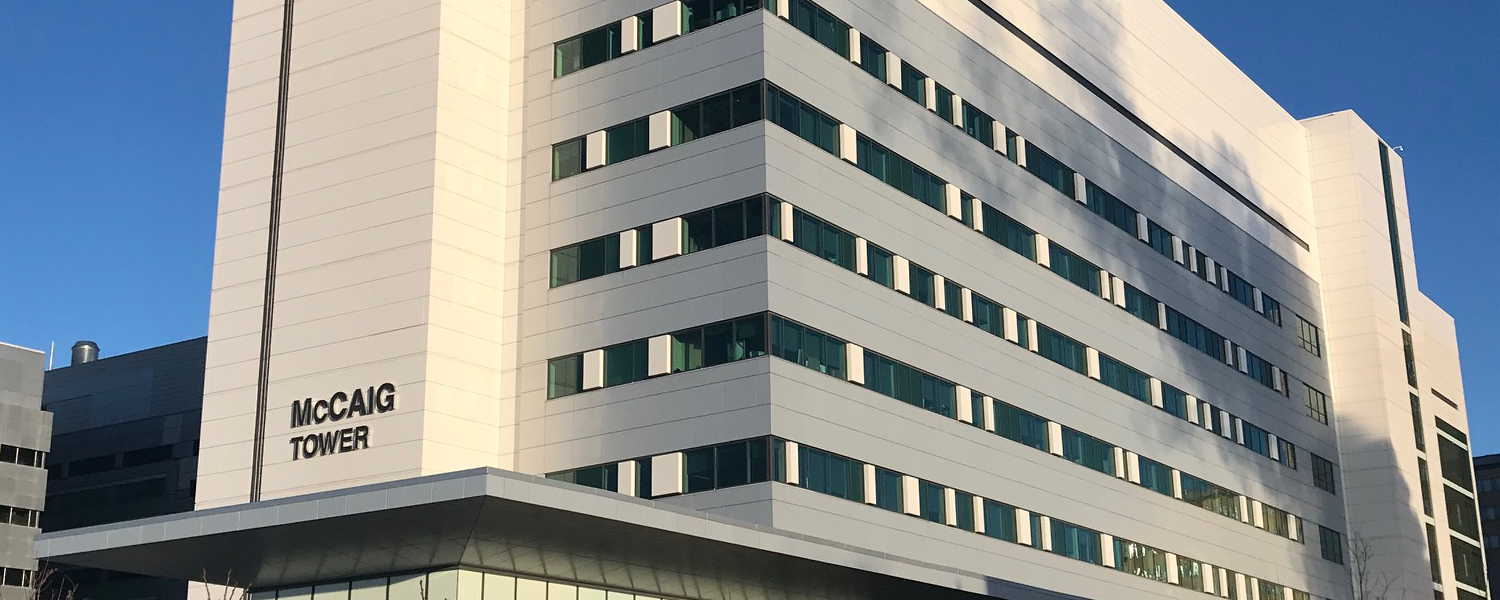 Foothills Medical Centre (FMC)
Enter your starting point in the "A" section. 
FMC is the preset destination. 
COVID-19 Pandemic Response
All efforts were focused on the COVID-19 pandemic response in 2020. Large scale plans for increasing ICU beds to manage a surge in patient admissions along with education and training around frequently changing process as more and more information became available about this virus were priority for the year's work.
Venting Wisely Pilot
FMC ICU was the pilot unit for the Venting Wisely Pathway; a comprehensive, evidence informed team-based care pathway for patients with hypoxic respiratory failure (HRF) or respiratory distress syndrome (ARDS). The pilot is supported by the Critical Care Strategic Clinical Network and will be spread for use in all ICU's in the province.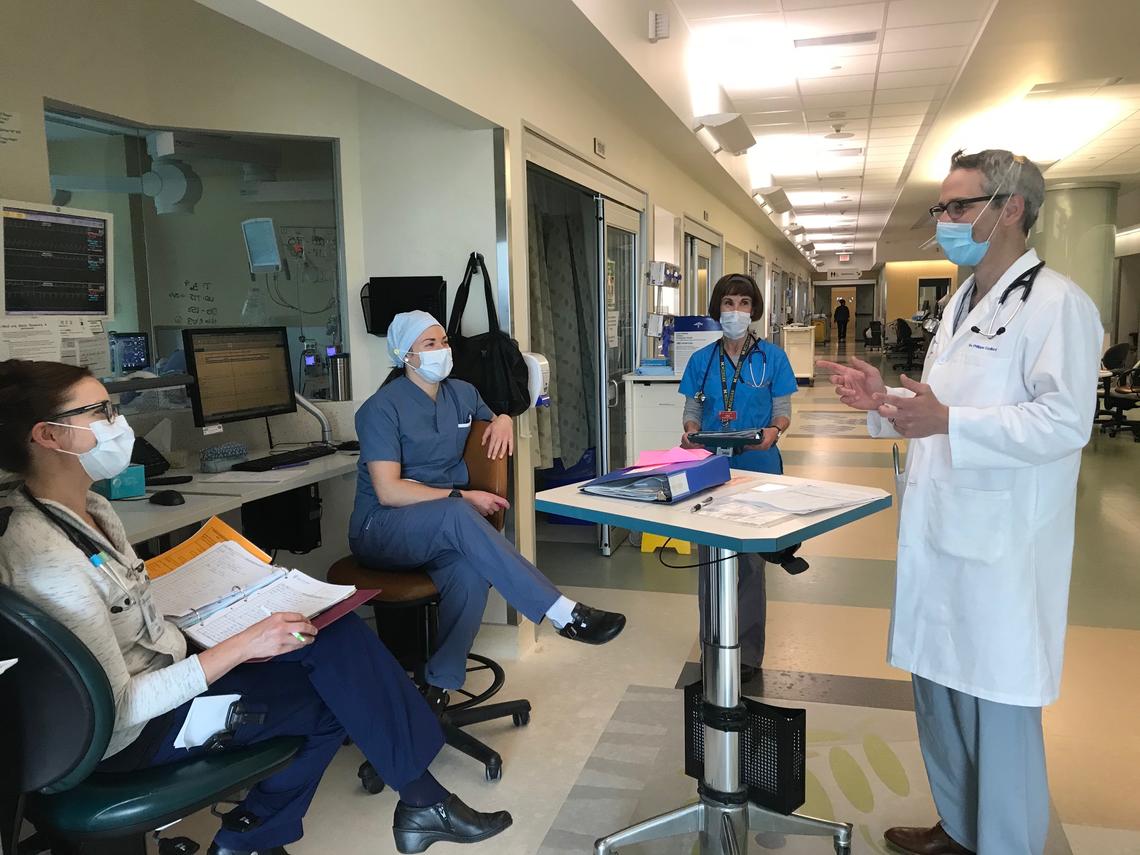 Dr. Philippe Couillard, FMC Site Director
Kelly Coutts, FMC Patient Care Manager
The Foothills Medical Centre (FMC) ICU continues to support the largest hospital in Calgary by providing intensive care, code blue and outreach services to over 1000 inpatient beds that support many key programs for the zone; neurosurgery, stroke, hepatobiliary surgery, head and neck cancer reconstructive surgery, burn care, thoracic surgery, and the bone marrow transplant programs, to name a few.  The unit is physically organized into three separate pods: each pod has 12 physical spaces and there are currently 28 funded beds.   
In 2020, the FMC ICU had 1300 patient admissions with a mean length of stay of 6.9 days. The ICU Outreach Team responded to 800 Code 66 calls and provided 680 follow up visits.
The main priority for 2020 was the COVID-19 pandemic response. In the spring, large-scale surge plans were developed to increase to over 150 ICU beds within the Foothills Campus including cohorting patients within the current ICU footprint and expanding into other areas within Cardiac Sciences, recovery rooms and operating room spaces. Fall plans for Wave 2 saw a scaled back version of our surge response but still with significant impact to physical space and human resources to manage the potential for increased patient demand. In early December, the ICU had ramped up by 12 additional beds, to 40, in order to meet COVID patient capacity. Over 200 nursing staff from throughout the FMC site as well as Alberta Children's Hospital PICU received education & orientation in preparation for a large scale surge and many were reassigned to the ICU for over 3 months. The unit also collaborated with the Calgary Extracorporeal Cardiac Life Support (ECSL) Program to admit COVID positive patients requiring ECMO in the main ICU as the single room infrastructure supported the isolation precautions required to safely care for these patients.
Large scale, multidisciplinary insitu simulations were developed and carried out to prepare the team for safely caring for COVID-19 patients; focusing on meticulous use of personal protective equipment, transfers of COVID-19 patients to the ICU, airway management and prone positioning.
The model of care of the unit 3 pods was adapted in an effort to house COVID positive patients in one area. This resulted in transition of one of the typically lower acuity, long stay patients and lower capacity areas to admit more critically ill patients; requiring changes to the composition of the teams supporting that area.
The Venting Wisely pilot launched at the FMC ICU in August of 2019. Education for all members of the team supported the engagement in the adoption of this evidence based, consistent approach to treating HRF/ARDS. The Critical Care Strategic Clinical Network Practice Leads visited the FMC site in late February to observe this pathway in action and incorporate our learnings into their plan to roll this project to all ICU's in the province.
Two specific critical care programs within FMC ICU that support all Southern Alberta include the Neurocritical Care program and the Burn program for management of critically injured burn patients. 
One of our ICU pods has been specifically designated to support trauma and neurologically injured patients.  The neurocritical care program has three lead Neurointensivists who work alongside specialized Registered Nurses, Registered Respiratory Therapists and Clinical Nurse Educators to provide comprehensive care that is tailored to the patient through multi-modality monitoring. This includes monitoring of intracranial pressure, cerebral temperature and oxygenation levels and continuous EEG. This team approach helps to provide the highest standard of care to this complex patient population.  FMC ICU also supports care of critically injured burn patients for Southern Alberta. Through close collaboration with the FMC Burns & Plastics Unit, we ensure burn patients are supported with standardized and evidence based best practice.  

Research and education are important activities across the unit to improve our processes, disseminate good practices and promote multidisciplinary collaboration. 
Most research activity was paused during the pandemic response but FMC ICU continued to support COVID-19 research activities.