Foothills Medical Centre (FMC)
Enter your starting point in the "A" section. 
FMC is the preset destination. 
Patient and Family Centred Care
FMC Patient and Family Centred Care Committee developed and launched new guidelines for family presence with a goal of reducing barriers to accessing the unit for families and creating consistency amongst team members.​​​​​​​
Delirium Prevention
FMC ICU Team was part of the provincial Delirium Initiative that was recognized for ICU Delirium Best practice and recipients of the Present's Excellence Award.
PERT (Pulmonary Embolism Response Team)
The Pulmonary Embolism Response Team was launched (PERT). It is a regional multidisciplinary consultative team to improve care of patients with severe Pulmonary Embolus.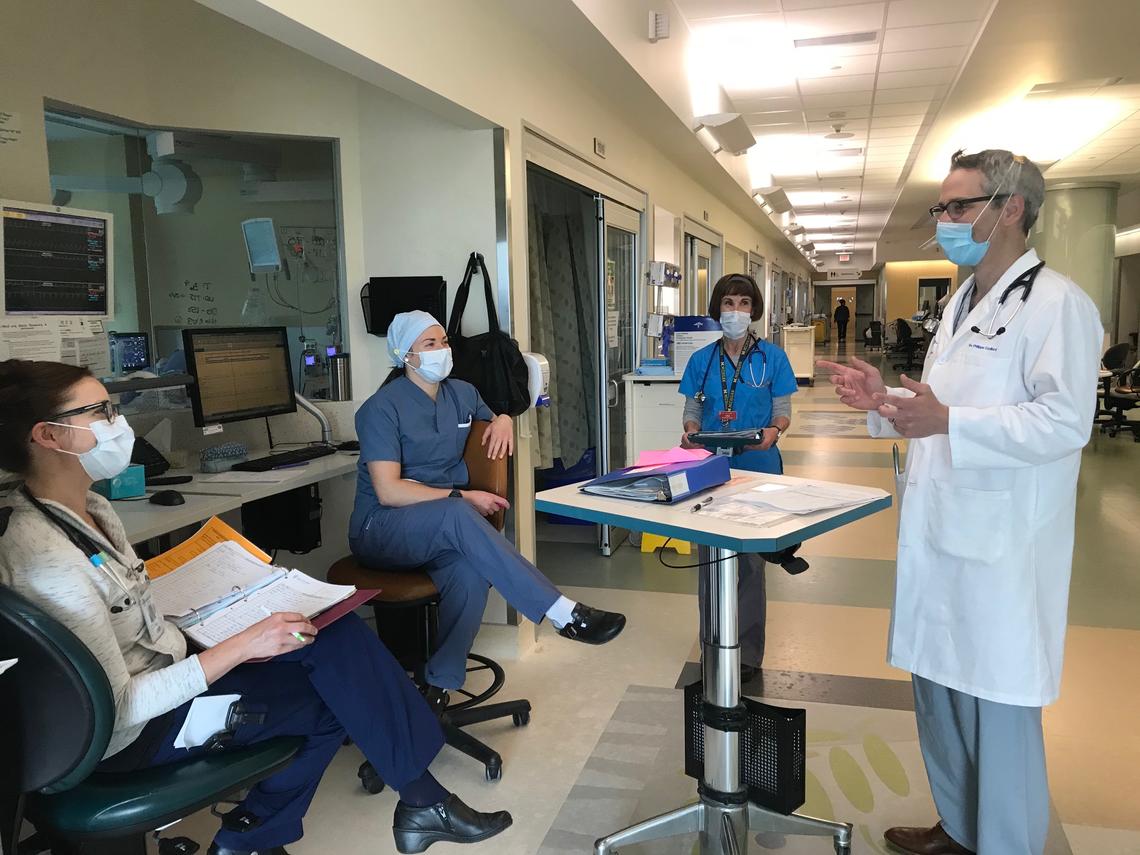 Dr. Philippe Couillard, FMC Site Director
Kelly Coutts, FMC Patient Care Manager
The Foothills Medical Centre (FMC) ICU continues to support the largest hospital in Calgary by providing intensive care, code blue and outreach services to over 1000 inpatient beds that support many key programs for the zone; neurosurgery, stroke, hepatobiliary surgery, head and neck cancer reconstructive surgery, burn care, thoracic surgery, and the bone marrow transplant programs, to name a few.  The unit is physically organized into three separate pods:  each pod has 12 physical spaces and there are currently 28 funded beds.   

Patients and families are embraced as partners in care at the FMC ICU and we encourage their participation in daily interdisciplinary rounds. We have a very active and engaged Patient and Family Centred Care Committee with three Family/Patient Advisors as members.  The last year has focused on improving awareness of patient personal preferences through a "Getting to Know Me" tool, in addition to Name, Occupation and Duty (NOD) identification and bedside whiteboard use. The committee is currently working on improving family presence and visitation processes through creation of a unit based guideline. Future initiatives will include improving the signage and resources provided to families upon admission. 
Addressing the incidence and prevalence of delirium is one of the main priorities at FMC ICU. The adoption and use of delirium screening tools, delirium management guidelines, and multiple targeted interventions has become part of daily practice with a focus on early mobility in this last year. We continue to work closely with our colleagues across the province through the Critical Care SCN Delirium Collaborative. 

In the fall of 2017, the zone wide model change for the ICU Outreach Program was implemented at FMC, moving from a physician led to an RN/RRT ramp up model. This significant change has been successful to date and evaluation is ongoing.  In 2018 the Outreach Team responded to 724 Code 66 calls on the site. 
In an effort to create a workplace environment where all staff feel empowered to communicate with each other, town hall meetings for the unit occur quarterly. These meetings provide a forum for feedback on quality measures and safety issues and are meant to encourage open, honest dialogue between all team members.  

We have been working closely with the Cancer SCN on the early recovery after surgery program (ERAS) for major head and neck cancer surgery. This program has been very successful demonstrating many positive metrics such as improved outcomes, reduced complications and hospital stays. 
Two specific critical care programs within FMC ICU that support all Southern Alberta include the Neurocritical Care program and the Burn program for management of critically injured burn patients. 
One of our ICU pods has been specifically designated to support trauma and neurologically injured patients.  The neurocritical care program has three lead Neurointensivists who work alongside specialized Registered Nurses, Registered Respiratory Therapists and Clinical Nurse Educators to provide comprehensive care that is tailored to the patient through multi-modality monitoring. This includes monitoring of intracranial pressure, cerebral temperature and oxygenation levels and continuous EEG. This team approach helps to provide the highest standard of care to this complex patient population.  FMC ICU also supports care of critically injured burn patients for Southern Alberta. Through close collaboration with the FMC Burns & Plastics Unit, we ensure burn patients are supported with standardized and evidence based best practice.  

Research and education are important activities across the unit to improve our processes, disseminate good practices and promote multidisciplinary collaboration.