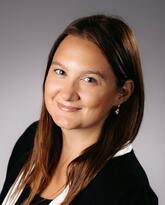 Veronica Bruno
Clinical Assistant Professor of Neurology
Movement disorders, Parkinson's disease
Biography
Dr. Veronica Bruno is a neurologist with a subspecialty in movement disorders. She received her medical degree and neurology residency in Buenos Aires, Argentina. She completed her fellowship in Movement Disorders at the University of Toronto and a Master of Public Health degree at the Harvard TH Chan School of Public Health.
Dr. Bruno was recognized with different international awards including the American Academy of Neurology and American Brain Foundation Clinical Fellowship and the Argentine Presidential Fellowship in Science and Technology, part of the U.S. State Department's '100,000 Strong in the Americas' initiative.
Dr. Bruno's primary interest is the treatment of advanced Parkinson's disease, with a particular research interest in the non-motor symptoms of the disease. She has also a special interest in Global Neurology and the search for innovative solutions to improve the quality of neurological care in low and middle-income countries.