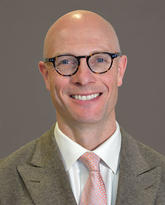 Kevin Busche
Associate Professor of Neurology
General Neurology, Multiple Sclerosis
Biography
Dr. Busche completed his Bachelor of Science in Anatomy and Cell Biology at McGill University in Montreal. He then went on to medical school at the University of Western Ontario graduating in 1997. Dr. Busche came to Calgary for his neurology residency, which he completed in 2002. Dr. Busche's clinical interests include general neurology and multiple sclerosis. His general neurology clinic is situated at the Rockyview General Hospital. Dr. Busche also works at the University of Calgary Multiple Sclerosis Clinic (Foothills Site) where he is involved in both patient care and clinical research trials.
Dr. Busche currently serves as the leader of the General Neurology Central Access and Triage team and is the site lead for Clinical Neurosciences at the Rockyview Hospital.
Medical Education is one of Dr. Busche's main areas of interest. In the past, he has chaired the Neuroscience Course Committee and the overseen the neurosciences course for the medical students. He has also spent several years as the Faculty Development Coordinator for Undergraduate Medical Education (UME). Currently, Dr. Busche is the Assistant Dean, Pre-clerkship for Undergraduate Medical Education (UME), looking after the academic and professional development of students and teachers in the first two years of the medical school program. He has won many awards recognizing his skill as a medical teacher.