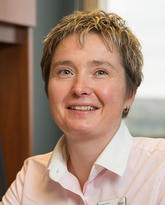 Shelagh Coutts
Professor of Neurology
Calgary Stroke Program
BSC, MSc, MB. CHB, MD, FRCPC
Biography
Dr. Coutts obtained her Undergraduate Medical Degree from the University of Edinburgh in 1997 and undertook general medical training at Glasgow Royal Infirmary prior to specializing in neurology. She moved to Calgary to complete a Fellowship in Stroke Neurology with Dr. Alastair Buchan and completed her Neurology Residency Training, receiving her FRCPC (Neurology) in 2006. During her stroke neurology training, she completed a postgraduate research degree on "Modern imaging: its role in prediction of outcome after stroke and TIA" and she received her MD (PhD equivalent) for this from the University of Edinburgh in 2005.
Her research interests include the use of acute imaging in triage and treatment of stroke and TIA patients in the Emergency Department. Her research interests include better diagnosis, triage and treatment of TIA and minor stroke patients. She recently completed a provincial study to improve TIA care throughout Alberta.
She plans to design therapeutic trials in high risk TIA and minor stroke using imaging to identify patients.
She completed the TEMPO-1 study.; this was a phase 2, dose escalation, safety study using low dose TNK in the treatment of minor stroke with intracranial occlusion. This has now led to paste 3 pivotal trial; TEMPO-2 which is a multi centre, international randomized controlled trial assessing the use of TNK in minor stroke with intracranial occlusion. This study is running in Canada, Europe and Australia. Funding has been received for TEMPO-2 from The Heart and Stroke Foundation of Canada and the Canadian Institutes of Health Research.
Dr. Coutts has received a number of awards for her work, including the "Siekert New Investigator Award" from the American Stroke Association, the "Michael J. Pessin award" in stroke leadership from the American Academy of Neurology and the Petro Canada Young Innovator Award in Community Health. She is the first recipient of the Heart and Stroke Foundation of Canada Distinguished Clinician Scientist award, supported in partnership with the CIHR Institute of Circulatory and Respiratory Health and AstraZeneca Canada Inc. She was also awarded a clinical investigator award from the Alberta Heritage Foundation for Medical Research. She was named in Avenue Magazine Calgary's top 40 under 40 in 2012.