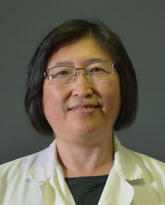 Yanjun Duan
Clinical Lecturer of Neurology
General Neurology, Urgent Neurology, EEG
Biography
Dr. Yanjun Duan went medical school and residency in internal medicine at the Capital Medical University in Beijing.
She received further training in neurology at the University of Calgary, and then continued with a fellowship in Epilepsy and EEG.
Dr. Duan has joined the division as a general neurologist and currently works in the General Neurology, Urgent Neurology, EEG interpretation and Botulinum Toxin injection for chronic migraine.