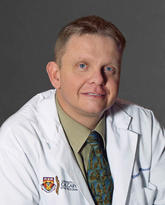 Stephan du Plessis
Associate Professor of Neurosurgery
Calgary Spine Program
MB, ChB (MD), M.Med (Neurosurgery), Diploma in Marine Medicine
Biography
Dr. Stephan du Plessis is an Associate Professor for the Department of Clinical Neurosciences, University of Calgary and Vice-Chair of the Calgary Spine Program.
He received his medical degree and residency from the University of the Free State in South Africa in 1990 and 1998 respectively. Dr. du Plessis then completed combined neurosurgical and orthopaedic spine fellowships in 1999 from the University of Calgary.
Dr. du Plessis's research interests focus on optimization of motion preserving spinal procedures for minimally invasive spinal surgery, vertebral body reconstruction for pathological spine fractures, and predicting vertebral body collapse in metastatic spine disease. In addition to this, he is also working on design and development of motion preservation technology, parametric solid modeling and evaluation of spinal implants, and finite element analysis for spinal disorders and spinal implants.
Clinically, Dr. du Plessis specializes in complex cervical spine problems, spinal oncology, and both minimally invasive and motion preserving spinal surgeries.