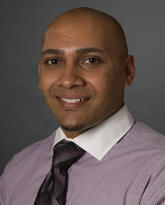 Arun Gupta
Clinical Assistant Professor of PM&R
Musculoskeletal, sports medicine, spine care
Biography
Dr. Gupta's clinical practice focuses on musculoskeletal health with a special interest in sports medicine, interventional spine care, ultrasound-guided joint/soft-tissue injections and electromyography. He has published books, abstracts and papers in various peer-reviewed journals and continues to work on a number of independent research projects aimed at improving knowledge in sports medicine and spine care.
He has a particular interest in Reparative and Regeneration Medicine. Dr. Gupta has assisted in the development of the MSK Regeneration and Performance Centre. The goal of his team is to improve patient mobility, function and quality of life.
Recently, Dr. Gupta has taken on the role as the Team Physician for the Alberta Ballet. This is part of a greater initiative to develop a Performing Arts Medical Institute in Calgary. Additionally, Dr. Gupta acts as a consultant to many athletes, both amateur and professional.