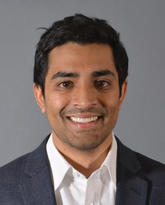 Ronak Kapadia
Clinical Assistant Professor of Neurology
Neurological Infections, Neuro-Immunology,General and Urgent Neurology, EMG
BSc, MD, FRCPC, CSCN (EMG)
Biography
Dr. Ronak Kapadia is an adult neurologist and a clinical assistant professor with the University of Calgary Cumming School of Medicine. His sub-specialty interest is in neurological infections and neuro-immunological diseases and he also has a general neurology practice which includes urgent neurology, nerve conduction studies/electromyography, lumbar puncture clinic, and botulinum toxin for chronic migraine.
Dr. Kapadia was born and raised in New Brunswick. He completed a Bachelor of Science degree (BSc, 2006) in human physiology from McGill University in Montreal, Quebec. He then went on to complete medical school (MD, 2010) at Dalhousie University in Halifax, Nova Scotia. Dr. Kapadia joined the University of Calgary in 2010 to complete his 5-year adult neurology residency training, becoming a fellow of the Royal College of Physicians of Canada in neurology (FRCPC) in 2015.
After several years in clinical practice as a general neurologist (2015-2019), Dr. Kapadia began a Master of Science (MSc) degree in 2017 in health sciences education which he will complete in 2020, and he completed a 1 year clinical fellowship in neurological infections and neuro-immunology at the University of Colorado Hospital (UCH) in Denver, Colorado in 2020.