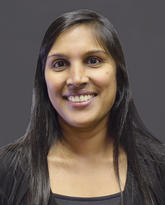 Shalina Ousman
Assistant Professor of Translational Neuroscience
Multiple Sclerosis, Nerve regeneration
Biography
Dr. Ousman completed her BSc (Honours) in Biology (1989-1993) and a Master's of Science degree in Physiology (1993-1995) with Dr. Mark A. Bisby, at Queen's University, Ontario. She then moved on to complete her PhD in Neurosciences at McGill University under the mentorship of Dr. Samuel David (1995-2001). Following this, Dr. Ousman completed two post-doctoral fellowships, the first with Dr. Iain L. Campbell at the Scripps Research Institute in the Department of Neuropharmacology (2001-2004), and the second with Dr. Lawrence Steinman at Stanford University (2004-2008) in the Department of Neurology and Neurological Studies. She returned to Canada in 2008, and chose to join us in Calgary not only for the world-class MS Program, but also for the collaborative spirit among the other MS, Neuroscience, and Immunology researchers.
Dr. Ousman's research centres around MS, with the goal to identify and mobilize endogenous protective responses in MS that antagonize the damaging events and/or mediate the repair process. She and her team are presently investigating the mechanism(s) underlying the potential therapeutic action of a small heat protein called alphaB-crystallin (alphaBC). She previously showed that alphaBC significantly decreased clinical signs in experimental allergic encephalomyelitis (EAE), an animal model of MS. Her lab is now investigating the cellular and molecular mechanisms underlying the protective effect of alphaBC, as well as assessing the translational capabilities of this molecule in normal and MS immune cells.
Dr. Ousman's lab is funded by operating and equipment grants from the Canadian Institutes of Health Research, Alberta Innovates-Health Solutions and Canada Foundation for Innovation. She is an AHFMR Scholar and holds a Donald Paty Career Development Award from the Multiple Sclerosis Society of Canada.