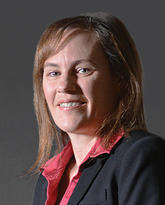 Stephanie Plamondon
Clinical Professor of PM&R
Neuro-muscular rehab and medical education
Biography
Dr. Stephanie Plamondon is a Clinical Professor for the Department of Clinical Neurosciences, University of Calgary.
Dr. Plamondon trained in Human Kinetics from the University of Windsor, Ontario, and moved on to complete her MD from McMaster University in 1996. She completed her Physical Medicine and Rehabilitation (PMR) Residency (also at McMaster) in 2000, and moved to Calgary to work with the PMR team, and to be closer to the mountains.
In her clinical practice, Dr. Plamondon focuses on neuro-muscular rehab. and medical education. She has two publications in rheumatology journals completed during her residency in the area of dermatomyositis. In addition, Dr. Plamondon has published a creative non-fiction article in CMAJ which was reprinted in Reader's Digest Feb 2002 about an ALS patient experience.