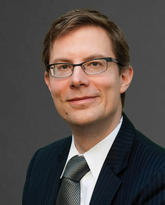 Eric Smith
Professor of Neurology
Cognitive Neurosciences, Stroke Program
Biography
Dr. Smith is the Medical Director of the Cognitive Neurosciences Clinic and a member of the Calgary Stroke Program. He is an Associate Professor in the Department of Clinical Neurosciences at the University of Calgary, and the inaugural holder of the Kathy Taylor Chair in Vascular Dementia.
He obtained his MD degree from McGill University and completed his neurology residency at Massachusetts General Hospital and Brigham and Women's Hospital, teaching hospitals of Harvard Medical School.
Dr. Smith's research program investigates the risk factors and consequences of diseases of the cerebral microcirculation, with the goal of improving the diagnosis, prevention and treatment of vascular contributions to cognitive decline and vascular dementia. His research work has been funded by Alberta Innovates – Health Solutions, Canadian Institutes of Health Research, Heart and Stroke Foundation of Canada, Alzheimer Society of Canada and the U.S. National Institute of Neurological Disorders and Stroke. He has received the Robert G. Siekert Award from the American Heart Association for his research work. He is an Assistant Editor for Stroke and is a member of the Editorial Board of the journal Neurology. Dr. Smith sees patients in the Cognitive Neurosciences Clinic and the Stroke Prevention Clinic.