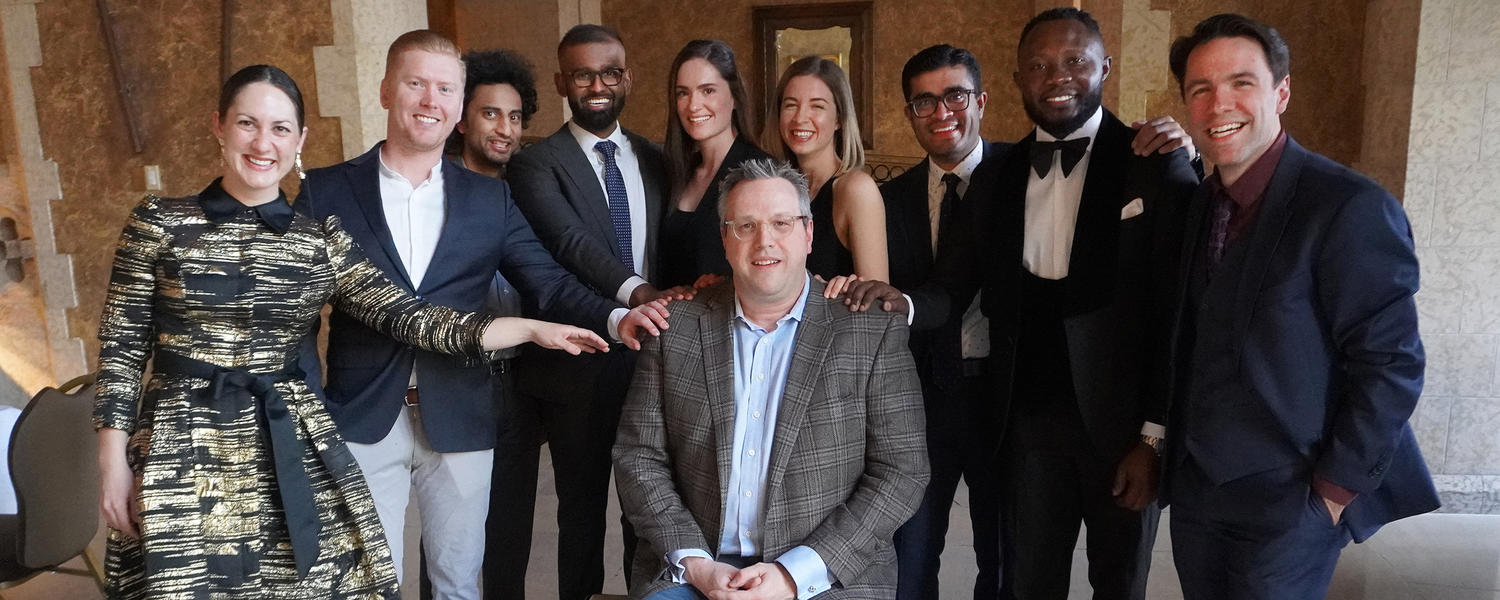 Neurosurgery Residency Program
Program Director: Dr. Jay Riva-Cambrin
Research Director: Dr. Garnette Sutherland
Program Administrator: Melissa Robertson
Phone: 403-944-125 Email: Melissa.Robertson@ahs.ca
Number of PGY-1 CaRMS positions per year: 2
Accreditation: Royal College of Physicians and Surgeons of Canada
Length of Training: 6 years
Mandatory Research: 1 year
Education of our postgraduate and undergraduate students remains one of the highest priorities of DCNS and the Section of Neurosurgery. The teaching faculty consists of a large complement of dynamic key opinion leaders representing all subspecialties of neurosurgery, including vascular, interventional, intracranial lesions, skull base, epilepsy, functional and peripheral nerve interests. In addition, the University of Calgary boasts the largest comprehensive spinal surgery program in Canada with a total of 11 full-time spine surgeons coming from both neurosurgical and orthopedic backgrounds.
From the moment residents enter the program, they are continuously involved in research and education initiatives. Considerable resources are dedicated each year to facilitating academic activities through faculty participation, existing peer-reviewed grants, project funding from sectional and department sources and a minimum of 12 months of clinical or basic science research. The neurosurgery educational half-day runs each week for three hours on Monday afternoons and incorporate neuroanatomy and the simulation lab. Sessions are led by the residents and supervised by the faculty, creating a learning environment within the realm of neurosurgical expertise.
A number of our residents continue to garner awards and scholarships for their outstanding clinical and academic endeavors in addition to a few celebrating engagements, marriages, and births.  Some of these include:
Dr. Stefan Lang was awarded and presented the top abstract  award at the annual World Society for Stereotactic and Functional Neurosurgery in New York.  As well, he was recently awarded the JB Hyne Award for research innovation, awarded by the Faculty of Graduate Studies.
Dr. Candice Poon was awarded the 2019 K.G. McKenzie Memorial Prize for Basic Research at the Canadian Neurological Science Federation annual meeting in Montreal.  She successfully defended her PhD thesis in addition to having a number of publications and her second child.   
Dr. Michael Yang  had a number of publications and was successful in achieving his Master's degree.   He was also the recipient of a Charles Kuntz Scholar Award  for an abstract that he presented at the Joint Section on Disorders of the Spine and Peripheral Nerves annual meeting in Miami.
Team relationships outside the hospital are of equal importance to the Section of Neurosurgery as they are within the hospital. The program offers a well-rounded exposure to all aspects of neurosurgery within a close and collegial environment.
Non work-related, team-building events held throughout the year provide a healthy balance against a busy lifestyle choice.
The end result is a recipe for one of the most cohesive, dedicated and high-performing resident groups in all of Canada and a group that we are proud to call our own.
Select from the topics below for more information