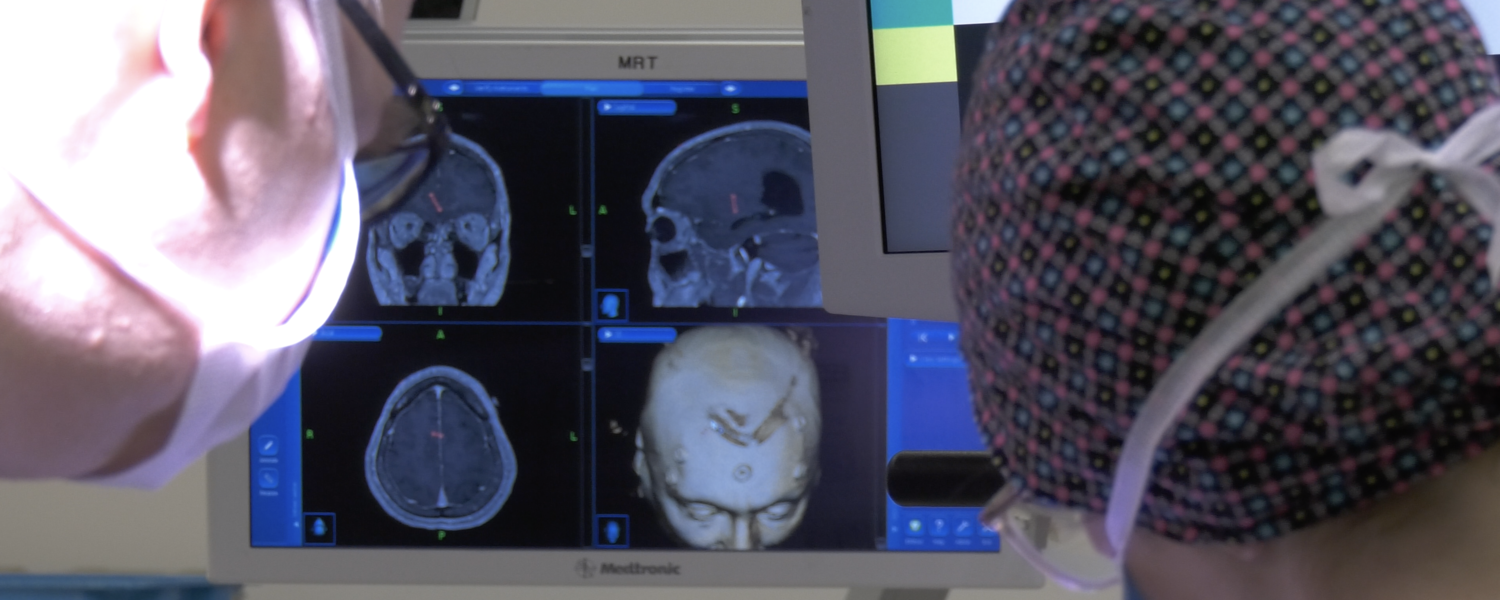 Section Head: Dr. Steven Casha
THE SECTION OF NEUROSURGERY at the University of Calgary and Alberta Health Services is fully integrated with its partner sections of Neurology, Physical Medicine and Rehabilitation (PM&R) and Translational Neurosciences within the Department of Clinical Neurosciences.
With its highly integrated and collaborative programmatic approach, the section provides sub-specialized care to the patient population. That population includes the geographic region of Southern Alberta as well as Eastern British Columbia in the Kootenay Region and Western Saskatchewan, encompassing an approximate catchment population of 2.5 million. Care is provided by 16 sub-specialist academic neurosurgeons, all of whom also provide general and emergency neurosurgical services.
Specialized programs include cerebrovascular and endovascular neurosurgery, epilepsy neurosurgery, adult hydrocephalus surgery, neuro-oncology, skull base surgery, pediatric neurosurgery, peripheral nerve surgery, functional neurosurgery, stereotactic radiosurgery and spine surgery.
In partnership with neurology, rehabilitation medicine, orthopedic surgery, neuroradiology, and radiation oncology, our members provide the highest quality of sub-specialized care for this patient population.
The total operative volume delivered by neurosurgeons was 2,240 cases in 2018-19. There were approximately 100 cases of bedside and Intensive Care Unit procedures, about 300 cases of endovascular procedures in the neuro-interventional suite, and about 100 radiosurgery cases. In addition, the section saw 11,590 out-patient visits in 2018-19.
Highlights
We remain very proud that the Charles Taylor Memorial Lectureship pays homage to Calgary's first neurosurgeon. In 2019, Dr. Antonio Chiocca (chairman of the Department of Neurosurgery at the Brigham and Women's Hospital in Boston, and the Harvey W. Cushing professor of Neurosurgery at the Harvard Medical School) was the 15th annual Charles Taylor lecturer.
Numerous other respected professors and neurosurgeons visited us this past academic year: Dr. Marcel Aries (University of Groningen, The Netherlands), Dr. Peter Dirks (University of Toronto), Dr. David Clarke (Dalhousie University), Dr. Adam Sachs (University of Ottawa), Dr. Darrel Brodke (University of Utah), and Dr. Chris Ogilvie (Brain Aneurysm Institute, Beth Israel Deaconess Medical Center, Boston).
For the 12th year running, the highly regarded Spine and Peripheral Nerve Anatomy and Surgery Course exposed neurosurgery and orthopedic residents from across the country to the nuances of spine and peripheral nerve surgery in a hands-on, supportive environment using didactic and cadaveric methods.
Education
The neurosurgery residency training program continues to be the pride of the section. Two new residents are accepted each year, within a current allotment of 16 trainees. The program is known for providing training in a collaborative and collegial environment where the highest quality of service and education are delivered.
In addition to hands-on and didactic teaching of residents, the faculty contributes significantly to undergraduate medical education teaching in the small group curriculum, as well as clerkship rotations.
Numerous fellows joined our section in various sub-specialties, which is another positive indicator of Calgary's strong reputation for excellent training and care.
Research
Members continue to be involved in intensive research, with several of them conducting peer-reviewed and funded basic science and/or clinical research programs. Collectively, the section benefited from over $2.5 million in funding revenue in 2018-2019 and published 63 manuscripts.
Many of these members partner with the Hotchkiss Brain Institute and the Alberta Children's Hospital Research Institute, and several faculty members have been granted full or affiliated membership.
Areas of research strength and accomplishment include clinical trials in spinal cord injury research, basic bench research in nerve regeneration, functional neurosurgery and deep brain stimulation, traumatic brain injury, laboratory work using brain tumour-initiating stem cells, intravascular stent development, pain management and hydrocephalus. We also proudly house one of the world's foremost laboratories in surgical robotics.
Notable recognitions in 2018-19 were received by: Dr. Garnette Sutherland, who was awarded the 2019 Governor General's Innovation Award; Dr. Jay Riva-Cambrin and collaborators, who were awarded a $9.6 million NIH grant for a randomized control trial in pediatric hydrocephalus; and Dr. Alim Mitha and Dr. John Wong, whose startup venture, Fluid Biotech, received the top prize at the Inventures' Tenet i2c competition.