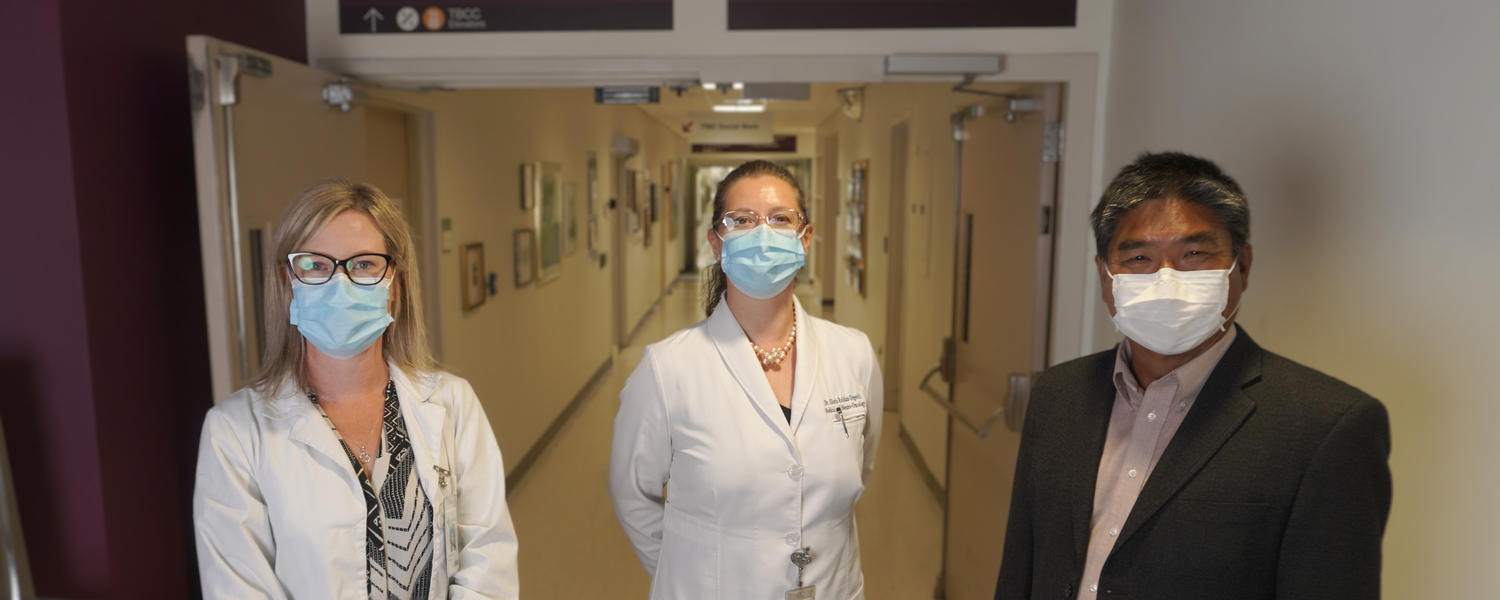 Section of Translational Neuroscience
Dr. V. Wee Yong (right), with Dr. Paula de Robles (left) and Dr. Gloria Roldan Urgoiti at the Tom Baker Cancer Centre.
Section Head: Dr. V. Wee Yong
THE SECTION OF TRANSLATIONAL NEUROSCIENCE (STN) in the Department of Clinical Neurosciences consists of seven primary members distinguished by their PhD background.  Research areas for members include neurodegenerative diseases, movement disorders and multiple sclerosis (MS), with a focus on understanding the pathogenesis of these disorders and the discovery and translation of new therapies into the clinic. These therapies include those that may reduce injury to the compromised nervous system and those to promote brain repair.
Dr. V. Wee Yong is a professor who co-directs the Multiple Sclerosis (MS) Brain and Mental Health Team at the Hotchkiss Brain Institute (HBI) and he is the director of the Alberta MS Network. His research interests have been guided by MS and glioblastomas, and findings have been translated into clinical trials in these conditions. Dr. Yong's publications have been cited over 22,500 times (Web of Science, h index: 85). His research activities are supported by CIHR (Foundation grant), the MS Society of Canada, and the Canadian Cancer Society. Dr. Yong is the recipient of the 2017 Allyn Taylor International Prize in Medicine for "transformational discoveries in MS". He is a fellow of both the Royal Society of Canada and the Canadian Academy of Health Sciences. Dr. Yong takes pride in his laboratory supervision: in the past 4 years, 6 trainees graduated from their PhD programs and 4 postdoctoral trainees have taken on faculty positions in Canada and Germany.
 
Dr. Minh Dang Nguyen received an Alberta Prion Research Institute award—Alzheimer's Research Program grant—to investigate the ApoE/ApoER2 axis in cerebrovascular dysfunction in Alzheimer disease ($150K for two years, 2019-2021). The funded project is complementary to the CIHR Operating Grant he secured in 2018 (~$987K for five years) that studies the roles of the Alzheimer's disease predisposition factor CD2AP in cerebrovascular dysfunction. Dr. Nguyen is currently collaborating with Dr. Eric Smith and Dr. Gerald Pfeffer to understand the impact of CD2AP polymorphisms in human patients with cognitive dysfunction and dementia. He has also extended his basic research on the gut-brain axis in amyotrophic lateral sclerosis (ALS) to the study of the oral microbiome in ALS patients in collaboration with Dr. Gerald Pfeffer, Dr. Lawrence Korngut and Dr. Matthew Stephens (Snyder Institute).
 
Dr. Shalina Ousman is an associate professor and a member of the Multiple Sclerosis (MS) and Spinal Cord/Nerve Injury and Pain Brain and Mental Health Teams at HBI. Her research is focused on investigating endogenous protective mechanisms in MS and peripheral nerve regeneration. In regards to her MS work, Dr. Ousman is investigating the molecular factors that drive dysfunction of astrocytes as well as why relapsing-remitting MS patients switch to a progressive form of the disease. Her peripheral nerve injury studies are focused on understanding why Schwann cells become dysfunctional in the injured aging peripheral nervous system. Her research is currently funded by CIHR.
 
Dr. Bin Hu is a professor specializing in Parkinson's disease (PD) research. He is a member of the HBI, and directs an international program of rehabilitation therapy for patients living with PD. The Ambulosono program currently has a large group of active users in seven countries, which has attracted broad attention not only from academic institutions but business and art communities that support music and mind research. He has published a series of articles documenting the power of music in helping Parkinson's patients in overcoming freezing gait. Dr. Hu's research has been supported by CIHR, Parkinson Association of Alberta, AIHS and Branch-out Foundation for Neurological Diseases. Alberta Health has recently announced that they will provide Dr. Hu with a large team grant to help multiple non-government organizations in the province to set up an online system entitled ACSCON (Access-Connect) through which patients will be able to receive non-pharmaceutical and rehabilitation assistance from health coaches.
 
Dr. Hedwich Kuipers is an assistant professor of neuroimmunology and joined the HBI MS NeuroTeam in April 2018, holding a membership at the Snyder Institute for Chronic Diseases as well. Her research is aimed at understanding the interaction between immune cells entering the CNS and its resident cells. Her main focus is on astrocytes, whose role in neuroinflammation is often overlooked. She has shown before that these cells, which are highly abundant in the brain, can release factors that help T lymphocytes infiltrate into CNS tissue. She currently investigates how astrocytes interact with these T cells and how they shape their responses, using molecular and cell biology approaches, as well as animal models of MS. In addition, she studies how astrocytes are affected by the oxygen levels they encounter, which can vary in different disease states. Dr. Kuipers's research is supported by the MS Society of Canada, the Canadian Foundation for Innovation and the HBI.
 
Dr. David Park is a professor and Director of HBI. His research program focuses on the mechanism of neural injury in stroke and Parkinson's disease (PD) as well as some fundamental aspects of neural development. He is also the lead of the Brain and Mental Health Strategy for the University of Calgary and he chairs Campus Alberta Neuroscience which knits together the three major sites of brain research in Alberta (Calgary, Edmonton, and Lethbridge). Since 2019, he has published seven papers in journals such as Aging Cell, J Biological Chemistry, J Neurochem., Cell Death and Disease, and Science Translational Medicine. His current interests are focused on understanding how genes associated with PD function or dysfunction to lead to disease progression. In this regard, he has recently shown that the LRRK2 gene may play a critical role in immune function and regulation, and he is currently screening drugs for potential candidates for human trials.

Dr. Gerald Zamponi received his undergraduate training in Engineering Physics from the Johannes Kepler University in Austria, followed by a PhD in Neuroscience at the University of Calgary and postdoctoral work at the University of British Columbia in Canada.  He is currently the Senior Associate Dean for Research and Full Professor in the Cumming School of Medicine at the University of Calgary. He previously served as the Head of the Department of Physiology and Pharmacology. Dr. Zamponi's broad research focus has been on the roles of voltage gated calcium channels in controlling the electrical activities of neurons, how they are compromised in various neurological disorders and, more specifically, how they can be targeted for the development of new therapeutics for pain. A second major area of interest is to decipher the functional connectomics of brain circuits that control sensory and affective components of pain.
Education
Members offer graduate and postdoctoral fellowship studies in basic and translational neurosciences, as well as year-round research projects for senior undergraduates and summer research programs.
Translational Program
STN is in a unique position to foster cutting edge translational neuroscience research. We are somewhat different from the basic science departments in that our program has a clear mandate to facilitate and integrate research and education between the clinic and the laboratories.
Work by our members, in collaboration with our neurology, neuro-oncology and neurosurgery colleagues, has resulted in a successful Phase III clinical trial in MS, an ongoing Phase III trial in traumatic spinal cord injury, and a soon-to-start Phase I/IIa trial of niacin in glioblastoma.