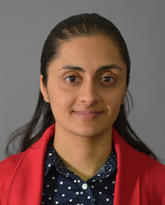 Ranita Manocha
Clinical Associate Professor of PM&R
Orthotics, Electromyography, Biomechanics
MD, MSc, FRCPC, CSCN (EMG)
Biography
Dr. Ranita Manocha is a Clinical Associate Professor in the Department of Clinical Neurosciences, Cumming School of Medicine, University of Calgary. She received her BA in Cross-Disciplinary Studies at Western University (2008) and her MD at the University of British Columbia (2012). Dr. Manocha completed specialty training in Physical Medicine and Rehabilitation and the Clinician Investigator Program at Western University (2018), during which she obtained an MSc in Medical Biophysics (2016).
Dr. Manocha's research interests involve the biomechanical effects of gait aids and braces. Her clinical practice includes outpatient electromyography, orthotics, and wheelchair seating.
Visit Dr. Manocha's Better Mobility Lab website.