Welcome to the Vascular Imaging Laboratory
Our focus is on using magnetic resonance imaging to advance the detection and management of vascular diseases, particularly those of the brain and neck. We strive to develop, apply and evaluate new imaging tools for the characterization of neurovascular disease. The Vascular Imaging Lab (VIL) is proud to be a component of the University of Calgary and to be part of the Seaman Family Magnetic Resonance Research Centre at the Foothills Medical Center, Alberta Health Services. We work closely with the Calgary Image Processing and Analysis Centre.
Currently, the VIL is active in imaging research that encompasses the neurovascular components of aging, stroke, vascular dementia, as well as brain tumours. These include projects that vary in scope and methodology, from development of new imaging technologies, to advanced post-processing and analysis strategies, to pilot human imaging studies. Outcomes of these and past studies can be seen through our collection of peer-reviewed publications in high-impact journals and research presentations at multiple national and international workshops and conferences. This effort occurs in an inclusive, supportive learning environment.
Priorities at the VIL include establishing and sustaining constructive partnerships and collaborations with other researchers, networks, and institutions; sustaining support from funding agencies and foundations; as well as the advanced training through research of our students, fellows and staff. Our collaborators, funders and trainees are key to the success of the program.
The University of Calgary, located in the heart of Southern Alberta, both acknowledges and pays tribute to the traditional territories of the peoples of Treaty 7, which include the Blackfoot Confederacy (comprised of the Siksika, the Piikani, and the Kainai First Nations), the Tsuut'ina First Nation, and the Stoney Nakoda (including Chiniki, Bearspaw, and Goodstoney First Nations). The City of Calgary is also home to the Métis Nation of Alberta Region 3.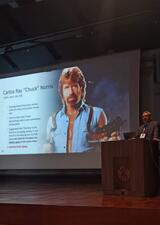 Frayne gives talk at 9th BRAINN Congress
VIL Scientist, Richard Frayne, gave the opening address on "Imaging of the Aging Brain" at the 9th Brazilian Institute of Neuroscience and Neurotechnology (BRAINN) Congress in Campinas, Sâo Paolo. (April 2023)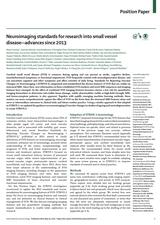 Revised STRIVE Position Paper Published
The STRIVE-2 report is now published, updating the 2013 STRIVE-1 summary. Richard Frayne and collaborators Eric Smith and Aravind Gansesh contributed to this Position Paper. Well worth a read. (May 2023)
Guerra Defends MSc Thesis
Javier Guerra defended his MSc in Biomedical Engineering. His thesis was entitled, "Developing TomoNet: A Deep Learning Feature Extractor for Medical Image Classification" and was co-supervised by former fellow and now faculty member Mariana Bento. (May 2023)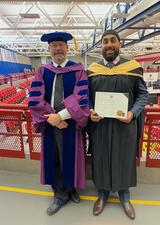 VIL Celebrates Sidhu's Convocation
Abhi Sidhu looked marvelous in his academic regalia as he successfully navigated the university convocation ceremony and received his MSc diploma. (May 2023)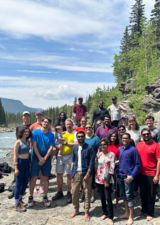 Successful Group Hike
Joining the Vascular Imaging Laboratory members for a very successful group hike were our friends from the Advanced Imaging and Artificial Intelligence Laboratory - (AI)2L . All enjoyed a walk along the Elbow River, followed by Ice Cream in Bragg Creek. (June 2023)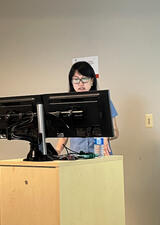 Seminar from Jean Chen, Alumnus
Jean Chen from Rotman Research Institute at Baycrest Hospital presented on her work in imaging of aging. Dr Chen is an alumnus (MSc 2004) of the Vascular Imaging Laboratory. (July 2023)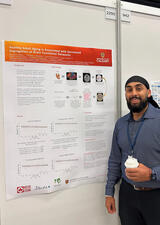 Presentation at OHBM Meeting
Abhi Sidhu presented his MSc work on functional changes in brain imaging with age and sex at the Organization of Human Brain Mapping meeting in Montreal. Congrats Abhi. (July 2023)
New Paper in Pattern Recognition Letters from Kauê
Kauê Duarte had a paper on deep learning for white matter hyperintensity (WMH) segmentation published in Pattern Recognition Letters. Congratulations Kauê on this major achievement.(August 2023)
End of Summer Research Presentations
Congratulations to Stephen Moore, Mackenzie Keeler, and Talal Shadid, who gave outstanding talks at the BME Undergraduate  Research Day. Stephen (Health Sciences) and Talal (Neuroscience) will stay in the VIL to complete their undergraduate theses. Mackenzie will be heading back to McMaster University. (August 2023)
Meet the people currently working in the laboratory and our alumni
Find out more about our research activities and infrastructure.
Learn more about our training program and the funding partner that support our research activities.