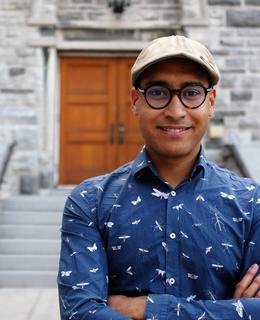 Dr. Alan Santinele Martino, PhD
Positions
Instructor
Cumming School of Medicine, Department of Community Health Sciences
I'm looking for...
Research partners
Funding
Background
Educational Background
B.A. (honors) Sociology, St. Lawrence University, 2011
M.A. Sociology, University of Lethbridge, 2014
Ph.D. Sociology, McMaster University, 2020
Biography
Dr. Alan Martino (he/him) is a faculty member in the Community Rehabilitation and Disability Studies program in the Department of Community Health Sciences at the University of Calgary.
His main research interests are in critical disability studies, gender and sexualities; feminist and critical disability studies theories; qualitative and community-based research (particularly participatory and inclusive research methodologies). His doctoral research examined the romantic and sexual lives of adults with intellectual disabilities in Ontario, Canada, by putting into conversation theories from both the sociology of sexualities and the field of critical disability studies. His current research project explores the intimate lives of 2SLGBTQ+ disabled people in Alberta.
His work has been published in journals, including Disability Studies Quarterly, Canadian Disability Studies Journal, and Culture, Health and Sexuality, as well as edited volumes focused on disability and/or sexualities studies. He is the former co-lead for the Sociology of Disability Research Cluster at the Canadian Sociological Association, as well as the current co-lead for the emerging Disability and Intimate Citizenship Research and Advocacy Hub.
Research
Areas of Research
Critical Disability Studies; Gender & Sexualities; Qualitative Research; Community-based Research (Particularly Participatory and Inclusive Research Methodologies)
Participation in university strategic initiatives
Courses
| Course number | Course title | Semester |
| --- | --- | --- |
| CORE 591 | Advanced Study Topics in Community Rehabilitation | Fall 2021 |
| CORE 594 T03 | Practicum I | Fall 2021 |
| HSOC 408 | Health Research Methods and Research Field Practicum | Fall 2021 |
| CORE 435 L02 | Social Research in Disability, Health and Rehabilitation Disablement | Fall 2021 |
| MDCH 700 | Directed Study Course: Queering the Family: Reimagining the Family | Fall 2021 |
Projects
"Are We Allowed to Be Feminists?": Women with Intellectual Disabilities and Feminism
---
The Romantic and Sexual Lives of LGBTQS2+ Adults with Intellectual and Developmental Disabilities
---
Disability and Digital Sexual Fields
Publications
"I don't want to get in trouble": A Study of How Adults with Intellectual Disabilities Convert and Navigate Intellectual Disability Sexual Fields. .

Santinele Martino, A. . Culture, Health & Sexuality. (2021)

"I hang out with non-Christians all the time. I just won't date them": The Role of Religion in the Intimate Lives of People with Intellectual Disabilities. .

Santinele Martino, A. . Journal of Applied Research in Intellectual Disabilities. . (2021)

Cues, Emotions, and Experiences: How Teaching Assistants Make Decisions about Teaching. .

Marquis, E., Cheng, B., Nair, M., Santinele Martino, A., & Roxå, T. . Journal of Further and Higher Education. (2020)

"I don't know if I can talk about that": An Exploratory Study on the Experiences of Direct Care Workers Regarding the Sexual Expression and Practices of People with Intellectual Disabilities. .

Santinele Martino, A. & Perreault-Laird, J. . Disability Studies Quarterly. (2019)

"Normal" Citizens and the Transabled Other: A Sociological Analysis of Online Commenters Reactions to Transability. .

Santinele Martino, A. & Andrejek, N.. Deviant Behavior. (2019)

When Good Intentions Backfire: University Research Ethics Review and the Intimate Lives of People Labelled with Intellectual Disabilities. .

Santinele Martino, A. & Fudge Schormans, A. . Forum: Qualitative Social Research. (2018)

Cripping sexualities: An analytic review of theoretical and empirical writing on the intersection of disabilities and sexualities.

Santinele Martino, A. . Sociology Compass. (2017)

Dating in the Digital Age: A Content Analysis of Dating Websites Designed for Disabled People..

Santinele Martino, A. & Moumos, E.. Sexuality and Disability. (2022)

Ethically Important Moments: Researching the Intimate Lives of Adults Labeled/with Intellectual Disabilities..

Santinele Martino, A.. Qualitative Research. (2022)

"It's Just More Complicated": The Experiences of Adults with Intellectual Disabilities When Navigating Digital Sexual Fields..

Santinele Martino, A. & Kinitz, D. J.. Cyberpsychology: Journal of Psychosocial Research on Cyberspace. (2022)

Disability is Associated with Sexually Transmitted Infection: Female Sex, Severity and Disability Domain are Important Risk Factors..

Brennand, E. & Santinele Martino, A.. Canadian Journal of Human Sexuality. (2022)
The Intersection of Sexuality and Intellectual Disability: Shattering the Taboo. .

Santinele Martino, A.. Introducing the New Sexuality Studies. 460-469. (2022)

Theoretical Developments: Queer Theory Meets Crip Theory. .

Santinele Martino, A., & Fudge Schormans, A. . Routledge Handbook of Disability and Sexuality. (2021)

Doing Age, Doing Disability: The Lived Experiences of Older People Receiving Home Care. .

Barken, R. & Santinele Martino, A. . The Aging/Disability Nexus . (2020)

Also Here, Also Queer: The Work of Queer Disabled Activists/Scholars in "Cripping" Sexualities..

Santinele Martino, A. . Young, Disabled and LGBT+: Voices, Identities and Intersections . (2020)

Exercising Intimate Citizenship Rights and (Re)Constructing Sexualities: The New Place of Sexuality in Disability Activism. .

Santinele Martino, A. & Campbell, S. M. . The Routledge Handbook of Disability Activism . (2019)

"It is totally a power struggle": Struggles over the sexuality of individuals with intellectual disabilities in Southern Alberta. .

Santinele Martino, A. . Dis/consent: Perspectives on Sexual Violence and Consensuality. (2019)