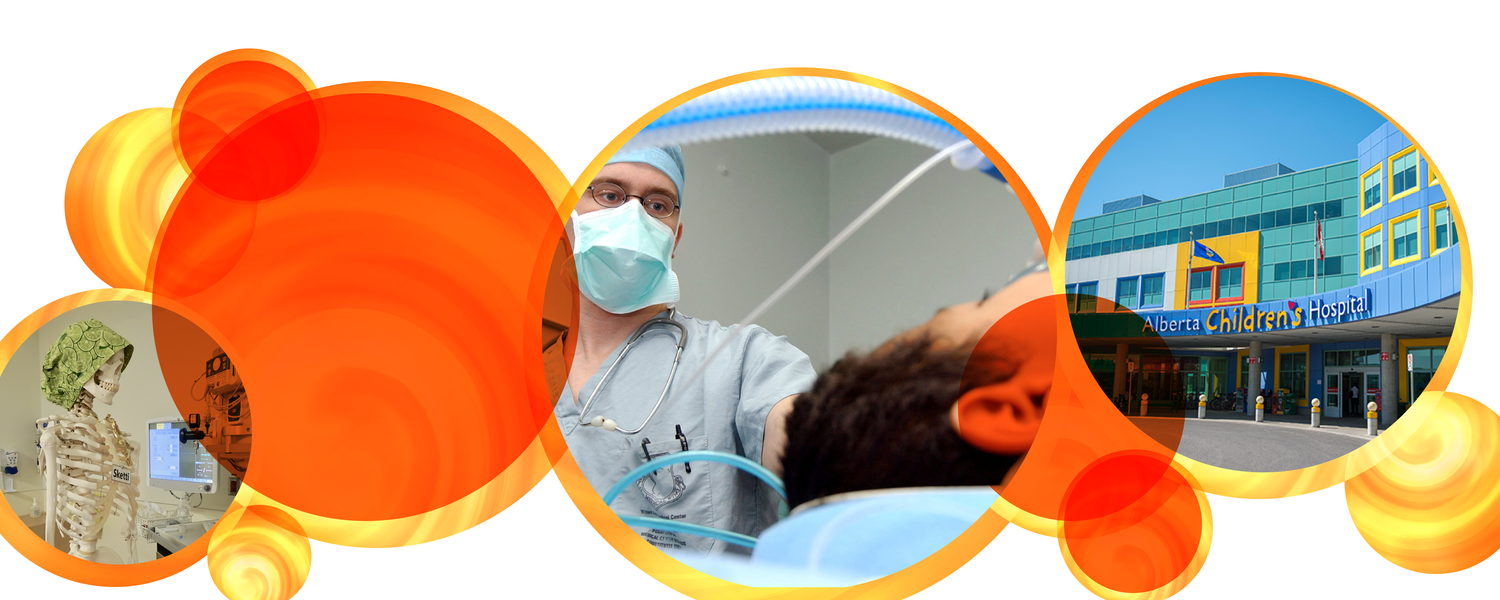 The section of paediatric anesthesia is based at Alberta Children's Hospital. 
Our priorities continue to be leading paediatric anesthesia care and training, excellence of clinical care, and our relationships with each other the wider hospital community.
We provide service for:
Seven daily operating room lists in ACH
Three to four Non-Hospital Surgical Facility dental lists per week
A comprehensive ARP-funded Acute Pain Service at all times
A two day a week physician led Complex Pain Service supported by five day a week nursing support, and an intensive pain rehabilitation program
An Out of OR ARP that covers pre-operative assessment clinic (POAC) one day per week, MRI, DI, IR, (daily lists), intermittent induction room anesthesia coverage and off-site procedures up to 3.2 FTE.
Paediatric anesthesia as needed at the other hospital sites in Calgary
We are involved in the training and education of a wide range of learners including anesthesia, paediatric, family medicine, and emergency residents.  Student RT's from the SAIT program. Paramedical staff and transport staff from the ACH transport team and from STARS.
In the year 2016-7 we provided anesthesia services for 10701 OR cases at ACH including 1822 emergency cases.  These numbers do not capture the anesthesia case work we do outside of the OR in MRI/DI, the induction room, Oncology clinic and off site procedures including NHSFs.
We are currently the only site with ARPs, which continue to successfully support the APS, CPS and out of OR paediatric anesthesia activities.  These ARPs are felt to be beneficial for our patients and continue to be supported by AHS and AHW. 
At ACH we have many exciting, new and ongoing initiatives many of which impact the anesthesia section. These include master site planning, re-designing of how minor procedures are managed at the site, implementation of Solution for Patient Safety (SPS – an international collaboration of paediatric hospitals with zero harm mandate).  Aligned with SPS is ongoing committee and quality assurance work for central line complications.  The ACH site has also implemented ACHEWS.  ACHEWS is an early warning system aimed at identifying and escalating care of at risk patients.  More specific to the surgical environment we are involved in: re-writing the ACH OR guidelines, design of the site-wide sedation protocol, the use of the induction room for minor procedures, streamlining of discharge planning and postoperative surgical pain pathways for ambulatory surgery, review of pre-op topical anesthesia and perioperative Tylenol and Advil use. The ACH site has been part of the implementation of Donation after Cardiac Death (DCD) protocol, with potential for increasing the availability of organs for donation. We continue to collaborate with PICU around airway management across the site and managing the transport of the critically ill child. 
Staffing
There are a total of 24 anesthesiologists on permanent staff at ACH.
 Humanitarian Work
The ACH Section of Anesthesia has contributed many hours of overseas volunteer humanitarian work.  In the last year, Drs. Hardcastle, Cox, Farran, Gale, Stewart and Connors have been as far and wide as Dominican Republic, Guatemala, Ecuador, Vietnam and Peru.  Project Outreach continues to be expertly co-ordinated by Dr. Connors.  Dr. McLuckie is involved in writing guidelines for teaching developing-world doctors how to educate.  Dr. Hardcastle is a paediatric anesthesia educator for Operation Smile, and Dr. Cox serves on the anesthesia committee and quality improvement committee of Resurge International. 
Pain Programs
 Complex Pain Program and Vi Riddell Pain and Rehabilitation Program
The Vi Riddell Pain Program offers a broad range of clinical services for children and adolescents suffering from persistent or complex pain.  The Complex Pain Clinic has a multidisciplinary team consisting of a paediatric anesthesiologist, nurse, psychologist, physiotherapist and family therapist.  Dr. Rasic is the medical lead of this program, and is joined by the other complex pain physicians, Drs. Farran, Carter, Spencer and Hardcastle.  There is also an intensive stream within the pain program for patients suffering from severe pain and disability, with a view to improve the adolescent's functioning.  This was the first program of its kind to be launched in Canada, and is considered the gold standard treatment for these adolescents.
 The research arm of the pain program, led by Drs. Noel, Rice and Vinall has enjoyed an extremely successful year with ongoing robust recruitment of patients into multiple clinical pain studies, the acquisition of external research funding and numerous awards, and extensive media coverage.  With our involvement with the nationwide pain CIHR SPOR (Strategy for Patient-Oriented Research), we have welcomed Allison McPeak (MPH) into our group as a research coordinator. 
 In addition, our pain program is involved with broader ACH and AHS initiatives, ensuring that all practitioners follow a "Commitment to Comfort" (C2C) approach with our young patients.  We are also in the process of obtaining the "ChildKind International" designation which recognizes our "standardized, institution-wide, collaborative approach to reducing pain and suffering in children."
 APS Program
Dr. Adam Spencer, Dr. Meggie Livingstone, and Lead Foster N.P. lead our Acute Pain Service. Sixteen department members are currently involved with this service. 
Our goal is to provide evidence-based pain and symptom management to postoperative and medical patients including patients with pain secondary to haematological and oncological issues, medical patients such as those who suffer from complications related to sickle cell disease, and complex pain patients.  We offer general anesthesia and sedation to oncology, hematology and burn patients requiring painful procedures. We continue to be engaged in research and education to help implement best practices related to pain management throughout our hospital.
 A new initiative over the last year has been the continuous peripheral nerve blocks (CPNBs). Following a successful in-hospital trial, the APS team developed and implemented an ambulatory CPNB program. Patients have indicated excellent pain control, decreased opioid requirements and families as a whole are very satisfied with the program, preferring to be recuperate at home rather than in-hospital.
Simulation
 Dr Duncan McLuckie leads our simulation team. We continue to run many successful programs including POCM, TPAC and Simulation Outreach and JITS. 
 Perioperative Crisis Management Course (POCM) is an all-day simulation course designed and developed at the ACH to improve crisis management in our operating rooms.  POCM is a multidisciplinary, inter-professional course involving OR RNs, PACU RNs, paediatric Anesthesiologists, Paediatric Surgeons, and RTs.  The course involves four simulated crises scenarios based on our last one year experience in the perioperative environment.  Cases which have been reviewed at our Quality Improvement / Quality Assurance rounds are used as a foundation for scenario development. Lead: Mark Gale, Support: Elisabeth Dobereiner, Dr D McLuckie.
The Paediatric Airway Course (TPAC) is an all-day simulation based airway course hosted at KIDSIM at ACH and facilitated by a multidisciplinary group from PICU, Peds Emerg, Ped Anesthesia and RTs.  The target audience is practicing physicians, outside of anesthesia, that may be required to manage paediatric airways.  TPAC has a focus on maintaining oxygenation using simple techniques. Web Link https://www.pace4kids.org/courses Lead: David Lardner. 
Simulation Outreach both out of the operating room at Alberta Children's Hospital and in community hospitals in Central and Southern Alberta. Lead: Jerry Luntley Support: Mark Gale.
Just-in-time simulation (JITS) is an educational strategy where simulation occurs in close temporal proximity to a clinical encounter.  This will take place in the operating room at a scheduled time on a scheduled list. Lead: Ruth Connors. 
Managing Emergencies in Paediatric Anesthesia (MEPA) for residents.  This full day simulation course aims to give all anesthesia trainees the opportunity to develop management strategies for emergencies in paediatric anesthesia through the use of high fidelity simulation. Lead: Mark Gale
 Residency Education
The Alberta Children's Hospital is dedicated to providing residents with exposure to perioperative care and pain management of children from birth to 18 years of age. This includes neonatal surgery, scoliosis surgery, laparoscopic /thoroscopic surgery, airway surgery, neurosurgery and diagnostic and interventional procedures. Resident rotations at ACH are now divided between the PGY-2 and PGY-3 years to allow for experience with paediatric patients early on and solidify learning points as they progress through their residency. Residents are active participants in departmental rounds and morning educational sessions. A total of eight grand rounds sessions were resident-lead in the previous academic year. ACH also is dedicated to the education of Family Practice Anesthesia in paediatric anesthesia.  We continue to work as a team to learn new educational knowledge and skills as we anticipate the arrival of competency by design.
Quality Assurance/Quality Improvement
 As a site initiative we are having, at least, quarterly rounds presentations based on QA/QI Sheets.   Drs. Theam and Mulvey have been very successful at creating an atmosphere of safety for our team and visiting teams with careful focus on system improvements.  The feedback from staff is that these rounds are invaluable.
2016 – 2017 Staff Administrative Roles
 Dr. Carter             Chief, Manpower Committee, Research Committee, ACH Quality Assurance Committee, ARPs, Fellowship Committee, ACH Site Leadership Committee, ACH Health Quality Council, ZAEC, ACH Pain Committee, ACH Line Project Team, ACH OR Committee, Day Medicine Working Group, Zone Clinical Paediatric Executive Committee,  Surgical Services Meeting, ACH Child Health Quality Council, Master Planning Steering Committee, staff periodic reviews, various recruitment meetings and interviews
 Dr. Connors        Research Committee, Anesthesia Economic Committee (AMA), Audit/QA, Simulation
 Dr. Cox                 PICU Liaison, Manpower Committee, Academic Council, Audit/QA, CARMS. CME Committee Representative
 Dr. Dobereiner    Rounds Co-ordinator, Simulation
 Dr. Ewen             Resident Site Lead, Audit/QA
 Dr. Farran            CPC co-lead, OR Recycling Committee, ARPs, SCM Lead
 Dr. Gale               Deputy Chief. Fellowship Director, Simulation, Transfusion Lead
 Dr. Ghazar           SCM Lead, NICU Liaison
 Dr. Hardcastle     RTC Site Coordinator, Scheduler, Retreat Lead, Off-site Lead, Manpower Committee, Research Committee, Carms, Making the Mark, POAC Lead
 Dr. Kuwahara     Ultrasound co-lead
 Dr. Lardner          PACU Liaison, Academic Council, ARPs, Simulation, Faculty Council, Research Committee
 Dr. Letal               Scheduler, Manpower Committee, Treasurer, Audit/QA, Simulation, Research Committee
 Dr. Livingstone   APS Co-lead, Core Program, CARMS
 Dr. Luntley          RTC Associate Site Coordinator Outreach Simulation, Trauma and Trauma Safety Committees, DI Liaison, CPAS Vice President
 Dr. McAllister      AARP Planning Committee, Paediatric Pain and Palliative Care Royal College Fellowship Development Commttee
 Dr. McLuckie       Site Simulation Lead, RTC Committee, Carms, Retreat 2018 Lead
 Dr. McMann        Fellowship Committee, Fellow Rounds, OR Recycling Committee, Equipment, AMA Economics Committee
 Dr. Mulvey           Audit/QA, Transport Liaison, Equipment, Trauma and Trauma Safety Committees, Medical Director Sunshine Village, STARS
 Dr. Rasic              Complex Pain Clinic Lead, Manpower Committee
 Dr. Rice                Local Co-PI SPOR Chronic Pain Network, HealthPRO IV Subcommittee, Clerkship Committee
 Dr. Spencer         APS Co-Lead Academic Council, Scholarly Project Co-ordinator, CARMs, Ultrasound Lead
 Dr. Theam            Audit/QA Lead
Relevant Links.
Canadian Society of Pediatric Anesthesia.
https://www.pediatricanesthesia.ca
Society for Pediatric Anesthesia
http://www.pedsanesthesia.org/
Wake up safe – alerts of current dangers 
http://www.pedsanesthesia.org/wp-content/uploads/2015/02/Hyperkalemia_statement.pdf
http://www.pedsanesthesia.org/wp-content/uploads/2015/02/acetaminophen_warning.pdf
Handover Tool
http://www.pedsanesthesia.org/wp-content/uploads/2015/02/Intraoperative_Handoff_Tool_FINAL.pdf
Critical Event Checklist.
http://www.pedsanesthesia.org/wp-content/uploads/2017/06/SPACriticalEventsChecklists.pdf
Series of Powerpoint Lectures on Peds Anesthesia.
http://www.pedsanesthesia.org/education/powerpoint-lecture-series/
ESPA 
Critical Events Guidelines
http://www.euroespa.com/science-education/specialized-sections/espa-guidelines/emergency-care/anaphylaxis/
SPANZA
Warning on Toradol
http://www.spanza.org.au/images/17_05_SPANZA_Advisory_on_Tramadol_31_May_2017.pdf
Association of Pediatric Anesthetists UK
Safety Bulletins ie Residual Drugs in Cannulae 
http://www.apagbi.org.uk/sites/default/files/images/psa-residual-anaesthetic-drugs.pdf
Other Guidelines
http://www.apagbi.org.uk/publications/apa-guidelines
Association of anesthetists of Great Britain and Ireland
Web Based Tutorials. 
http://www.aagbi.org/education/educational-resources/tutorial-week/my-events/tutorial/Paediatric%20Anaesthesia
Best of the Web Page.
http://www.apagbi.org.uk/professionals/education-and-training/web-resources
Hot Topics Case Discussions and Polls
http://www.apagbi.org.uk/professionals/education-and-training/apa-hot-topics
Article Watch – New Articles Quarterly
http://www.apagbi.org.uk/sites/default/files/images/FinalArticleWatch.pdf
Safety Research in Neonates and Infants