Specimen Preparation
Tissue sectioning, tissue culture, cryo-storage etc.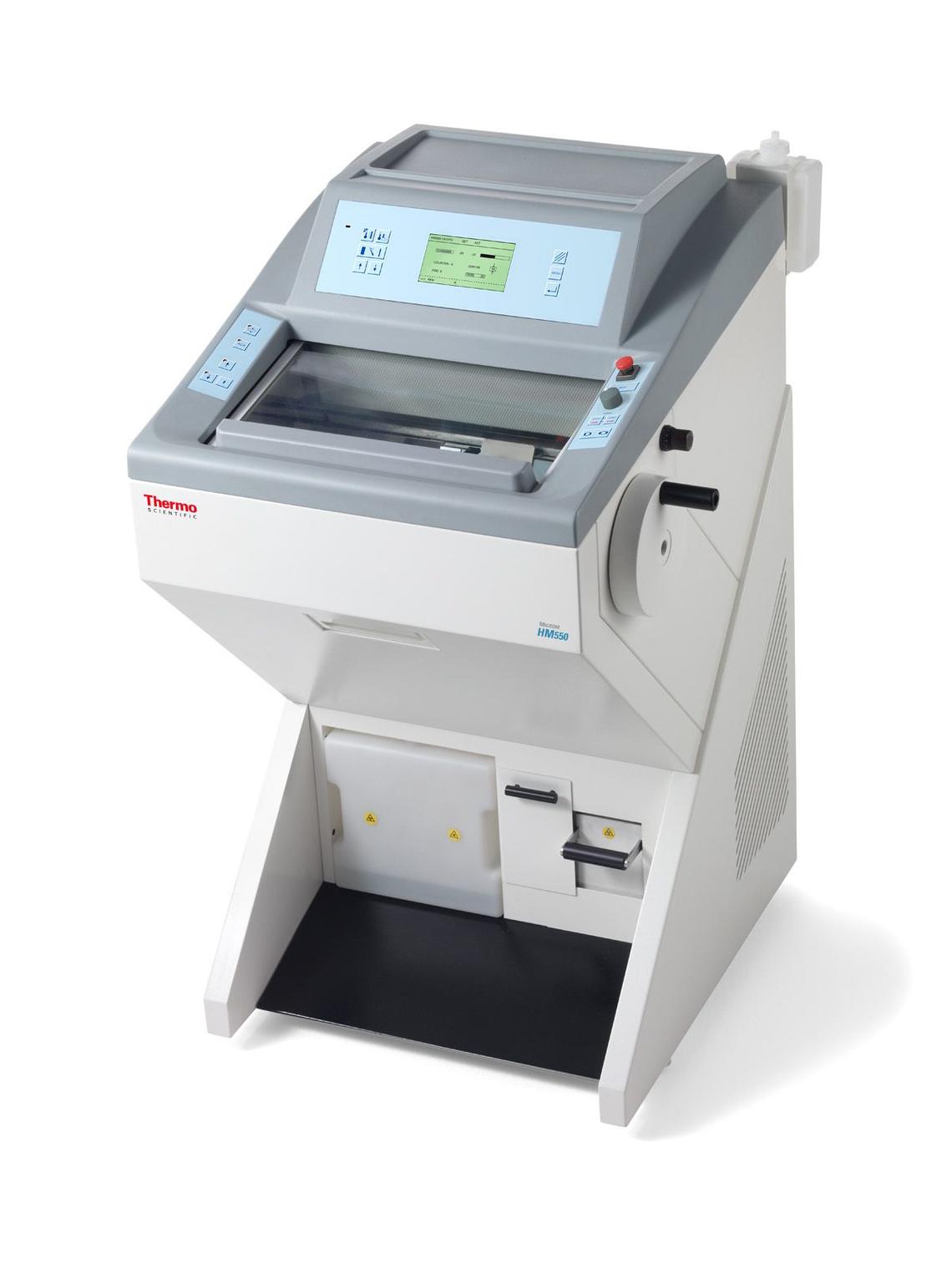 Thermofisher HM550 Cryostat
Open top, modular design.
Stainless steel cooling chamber.
Chamber temperature regulation variable from -10°C to -35°C.
Rotary Microtome with backlash and maintenance-free cross roller bearings in stainless steel.
Electro-mechanical feed system. Motorized coarse feed in two directions with three speed selections.
Section thickness setting from 1 to 100 microns. Trimming thickness setting from 5 to 500 microns.
Specimen retraction during the return stroke with optical indication.
Horizontal feed range 28 mm. Vertical cutting stroke 60 mm.
Max. specimen size 75 x 55 mm
Limit indication and automated switch off at front and rear limits of horizontal travel.
Automatic approach system for exact and safe approach of specimen towards the knife edge 
Section counter and indication of sum of section thicknesses with reset button with indication of remaining travel.
Standard Operating Procedure: Download HM550 Cryostat SOP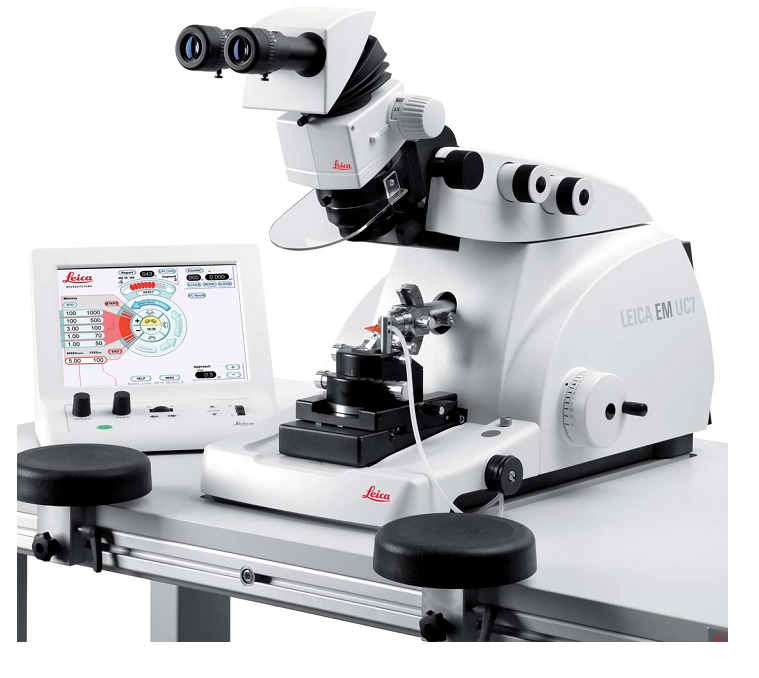 Leica EM UC7 Ultra-microtome
The Leica EM UC7 prepares excellent quality semi- and ultra-thin sections, as well as the perfectly smooth surfaces required for LM, TEM, SEM, and AFM examination.
Features
Cutting thickness: 1 nm to 15 μm | Cutting speed: 0.05 to 100 mm/sec
Stereomicroscope observation system with patented designated positions for specimen approach, for glass and diamond knives.
LED illumination for top light and backlight and transmitted light. LED spot illumination offers a focused light beam to enhance observation.
Fully motorized knife stage and patented AutoTrim function completes and then stops the trim automatically.
Easy-to-learn, fast operation via touchscreen control and displayed hints.
Data transfer for reporting user, specimen, knife and storage parameters provides an electronic, paper-free log file.
The operator recognition system allow multiple users to use the same instrument. Up to 100 different user/specimen/knife profiles can be set.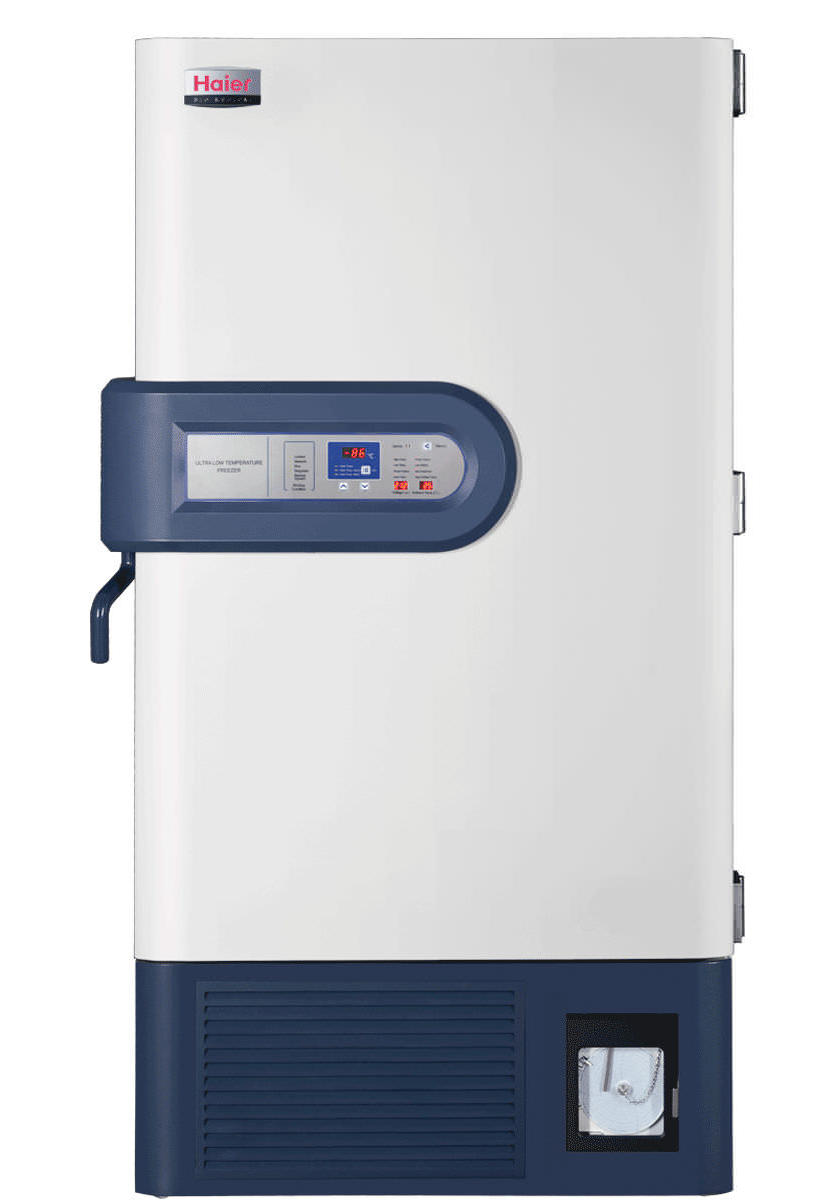 Haier DW-86L628H Ultra Low Temperature -80C Freezer