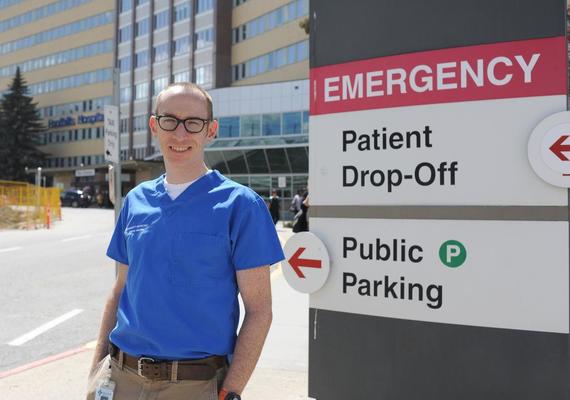 Emergency Medicine Research
The Emergency Medicine Research Group exists to improve patient and family care and health system efficiency through actionable research, collaboration, and mentorship.
Consulting our Research Team

To best assist you with your research needs, please fill out and submit the following form:
Responsibilities of a Principle Investigator
PI's working with the Department of Emergency Medicine will be expected to complete the following independently (with resource support from the Research Coordinator/Administrator)
Develop study protocol and statistical analysis plan (SAP)

.

Design Audit Protocols

With the expectation of auditing 10% of data collected

Design and sign off on Chart Review Forms (CRFs)

- if applicable

Submit own ethics, amendments and yearly renewals

- as needed

Design online data entry form, if applicable, prior to study initiation

For example, using the REDCap online platform 
https://redcap.ucalgary.ca/
CHREB Documentation

For assistance with documentation required for consent, please see the University of Calgary's Forms and Documents including the CHREB Oral Consent Script template.

Video

For more information on obtaining consent in research, please see this video, developed by the U.S. Department of Health and Human Services
Study Team Research Certification
PI's are also responsible for ensuring that every member of the study team has completed and submitted certificates of completion for the following research modules (please submit to our Emergency Medicine Research Administrator)
GCP - Good Clinical Practice
Good Clinical Practice Modules 
EXPIRY: Every 3 Years
TCPS2: CORE
Tri-Council Policy Statement: Ethical Conduct for Research Involving Humans (TCPS2: CORE) 
(Most physicians in the Calgary Zone will already have completed the following and are required submit their certificates of completion)
AHS - Info & Privacy
Health Information Act and Freedom of Information and Protection Act Training
Research Ethics and AHS Health Systems Access Assistance
We have compiled a repository of successful ethics application to assist you in completing your own.
Please login into the Sharepoint website using your UCalgary credentials or email our research administrator for access permission.
Department Approval (prior to Ethics submission)
All Emergency Medicine CHREB applications require the signature of the Department Head, Dr. Eddy Lang. Please fill out the following form with your project details and send to Dr. Lang and Jenny Woo for review and approval prior to submitting to ethics. This document should then be uploaded under "Documents" on the CHREB IRISS portal.
Project Budget
If your study is funded, please also ensure you include a budget form and upload it under the "Documents" section in the CHREB IRISS portal.
AHS Resource Request (submitted after your REB application has been approved): You will automatically receive an email from Vivian Bahn (Vivian.Banh@albertahealthservices.ca), Health Systems Access Assistant, giving you the next steps for obtaining AHS approval to access AHS data, if you require it for your study. This includes access to platforms such as SCM (if research based, you cannot use your clinical SCM access but must request Research "view only" access) and any electronic paper charts.
Lately, this email has been delayed by a few months so please email Vivian directly if you require AHS approvals in an expedited manner (otherwise it could take 6 months from the time you receive REB approval to when you are granted approval to access AHS data)
Please note: Paper chart requests from Health Information Services (HIM) are $3.00 for each chart, plus applicable taxes. Please ensure you have a valid University of Calgary Project ID/Fund with which to pay the HIM invoice for chart pulls.
Funded Projects
Applies to fully funded projects employing different levels of research staff
Screening Only
Ability to identify eligible patients based on study inclusion criteria with basic emergency department visit demographics accessible via the electronic emergency medicine dashboard Sunrise Emergency Care (SEC).
Ability to pull daily lists of emergency department visit by primary CTAS score and triage complaint (generic list of 15+ complaints)
Ability to use daily lists of emergency department visits to identify missed/control candidates to ensure reliability and minimize selection bias
Cost/Fee structure: Available upon request. Initial Research Assistant Orientation to the study usually takes approximately 2 hours plus hourly rate for research assistant plus/minus support for research coordinator role
Screening and Recruitment
In addition to the above, research assistants will be trained in study protocol, eligibility criteria and consent procedure for your specific study
Cost/Fee structure: Available upon request. Initial Research Assistant Orientation to the study usually takes approximately 2 hours plus hourly rate for research assistant plus/minus support for research coordinator role
All fees can be discussed on a sliding scale basis for those who are interested in research but unable to meet the fee scales needed, exclusive of industry sponsored initiatives - full fees are applicable.
Members of the Department of Emergency Medicine (including Emergency Medicine Residents, Faculty and Staff clinicians/nurses and allied health professionals) In Kind
Members of other Departments within the University of Calgary Cumming School of Medicine:
Assistance with Conjoint Health Research Ethics Board forms and submission: $60/hr
Startup costs and Research Assistant Orientation: $250-$500 depending on the scope of the research project
Departments and Groups external to the University of Calgary Cumming School Of Medicine:
Assistance with Conjoint Health Research Ethics Board (CHREB) forms and submission: $100/hr in addition to CHREB fee for review (in case of industry sponsored research, the cost of CHREB review is $4000)
Startup costs and Research Assistant Orientation: $250-$500 depending on the scope of the research project