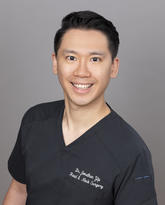 Jonathan Yip
Section: Otolaryngology
Department of Surgery
Biography
Dr. Jonathan Yip is a Clinical Lecturer in the Section of Otolaryngology - Head and Neck Surgery at the University of Calgary, and is based out of Rockyview General Hospital. He completed his residency training at the University of Toronto before pursuing an advanced fellowship in Rhinology and Endoscopic Skull Base Surgery at Northwestern University (Chicago, IL, USA). After fellowship, he returned to Toronto for 3 years before accepting a position in Calgary.
Dr. Yip's clinical and academic focus is in advanced rhinology (diseases of the nose and sinuses) and endoscopic skull base surgery (in collaboration with neurosurgery). His research interests include the development of quality metrics/indicators, as well as quality improvement and patient safety. He currently serves as the Quality Improvement and Safety Lead for the Section.
In addition to his research interests, Dr. Yip is active in teaching undergraduate and post-graduate trainees and has previously won "Resident Teacher of the Year" as a trainee. He has been recognized for his outstanding patient care, as he was the recipient of the Shiley E.O. Pelausa Award (University of Toronto) and Bernard Ghert Award for Resident Excellent in Patient Focused Care (Sinai Health Systems).
Affiliations & Certifications
Clinical Lecturer, Department of Surgery, University of Calgary
Member, American Rhinologic Society
BSc (Honours) in Life Sciences from Queen's University, Canada
MD from University of Toronto, Canada
FRCSC Residency in Otolaryngology - Head and Neck Surgery, University of Toronto, Canada
Fellowship: Rhinology and Endoscopic Skull Base Surgery, Northwestern University, USA