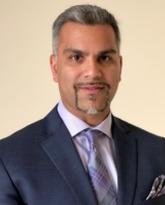 Shamir Chandarana
Section: Otolaryngology
Department of Surgery
M.Sc., M.D., Fellowship-Head & Neck Oncologic/Microvascular Surgery
Western University & University of Michigan
Additional Information
Research Activities
Clinical outcomes in Head & Neck Surgery
Biomarker research
Epidemiology of thyroid cancer surgery
Biography
Shamir Chandarana completed Medical School in 2003. After completing residency training at University of Western Ontario in 2008, he pursued a 2-year fellowship in Head and Neck Oncologic Surgery/Microvascular Reconstruction at the University of Michigan. Concurrently, he also completed a Masters in Public Health. In 2010, Dr. Chandarana joined the section of Otolaryngology–Head & Neck Surgery at the University of Calgary. There he enjoys a busy practice focused on head and neck surgery, thyroid/parathyroid surgery and reconstructive surgery.
Publications
Dang M, Chandarana SP, Dort JC et alMRI Texture Analysis Predicts p53 Status in Head and Neck Squamous Cell Carcinoma. AJNR Am J Neuroradiol. 2015;36(1):166-70.
Yeung J, Dautremont J, Harrop R, Asante T, Hirani N, Nakoneshny S, De Haas V, McKenzie D, Matthews TW, Chandarana SP, Schrag CH, Dort JC. Reduction of pulmonary complications and hospital length of stay with a clinical care pathway after head and neck reconstruction. Plast Reconstr Surg. 2014;133(6):1477-84.
Randall DR, Lysack JT, Hudon ME, Guggisberg K, Nakoneshny SC, Matthews TW, Dort JC, Chandarana SP. Cost-effectiveness analysis of a postoperative clinical care pathway in head and neck surgery with microvascular reconstruction. J Otolaryngol Head Neck Surg. 2013;42:59.
Dautremont JF, Yeung J, Asante T, Nakoneshny SC, Hoy M, Lui A, Chandarana SP, Matthews TW, Schrag CH, Rudmik LR, Dort JC. Cost-effectiveness analysis of a post-operative clinical care pathway in head and neck surgery with microvascular reconstruction. J Otolaryngol Head and Neck Surg. 2013;42:59