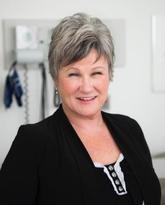 Elizabeth Monaghan
BSc (distinction), MD, CCFP, FCFP Clinical Assistant Professor, Family Medicine
Master Teacher Program
Biography
As a generalist, I believe I'm in a good position to help medical students - I navigated med school and residency (ok, it WAS a long time ago but I still remember!), have practiced in diverse environments (rural, remote, urban; community and hospital based practice). I know a small to moderate amount about most areas in medicine (breadth over depth suits my personality). I enjoy the energy of the teaching-learning environment and can never get enough of the "aha!" moments.
Few things in medical practice are black and white. We learn to embrace grey. Many complex diagnoses are made by repeated observations over time. Grey becomes more interesting and less frustrating with realistic expectations.
In my UME teaching, I try to provide what I would have valued as a medical student.
My 6 P's:
Pique interest – "Why would one ever want to know this?" The focus has shifted from getting top marks on a university exam to the more worthy goal of picking up on critical information that may enhance or even save your patient's life.
Perspective – "How commonly is this condition seen in the general population?" While amyloidosis and sarcoidosis are on every differential, they are not very common (wish someone had told me). Anemia is seen daily in primary care and most specialties. Learn about it.
Prioritize – "How does one learn all this information in med school?" You won't. Prioritize study time based on the first 2 P's, be strategic and learn adequate detail for med school graduation, LMCC exams, and clinical competency in early residency. The rest will come later….
Personal growth - Embrace life long learning, read around cases to build extensive and retrievable knowledge over time. Enjoy interactions and learn from patients and other health care providers.
Physician know thyself - Truly understanding one's personality, strengths, vulnerabilities, personal and professional values is the right path to a satisfying career choice.
Passion/Purpose/Pleasure – A career in medicine is a privilege, so if there are times when you are not excited about it (a very distinct possibility), find the courage to change it up. It's never too late to change what you are doing or how you are doing it. Be creative…the possibilities are endless.