Student Loans and Lines of Credit
Student loans
The University of Calgary utilizes standardized study dates for loan purposes to streamline the loan application and confirmation process.  Please note that while the standardized loan dates may differ slightly from your actual in-study dates, they are true and correct for loan purposes and represent the same number of study weeks and have no impact on your funding eligibility.  Please use the following table as a reference when applying for student loans.
Medical Application Dates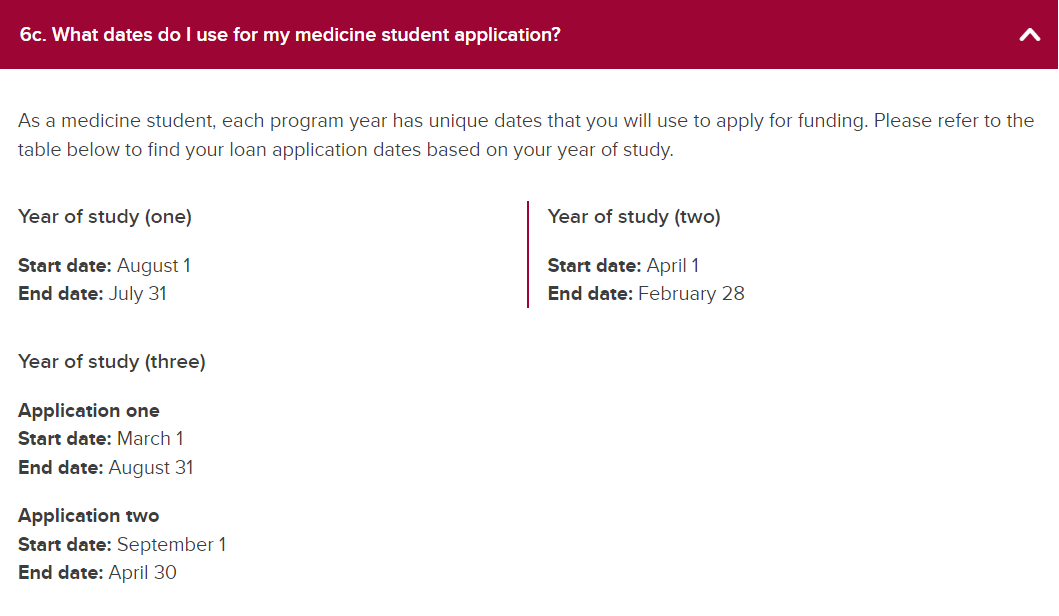 Alberta Student Loans
Starting in fall 2019, students who receive government student aid from Canada will receive all monies allocated to them directly. This means it will be your responsibility to meet the tuition payment deadline by making your payment(s) from these funds. Please follow this link to U of C Registrar's student loan information.
In January 2019, Alberta Student Aid made changes to their security system. You will need to create a basic MyAlberta Digital ID account to access the student aid system.
The current annual loan limit for Student Aid Alberta is $22,500 for two semesters and $37,500 for three semesters. For medical students, the lifetime limit is $175,000 (combined outstanding balances of Alberta and Canada student loans).
Federal Student Loans
Canadian citizens and permanent residents are eligible to apply for government student loans. Student loans offered by the Government of Canada require certain eligibility criteria that must be met, and students are advised to be aware of the maximum lifetime limit for Canada Student Loans. You will also have to start paying back the loan six months after you graduate or leave your studies.
More information can be found at: http://www.esdc.gc.ca/en/student_loans/government.page.
Maintaining Interest-Free Status while in Residency
If you have received an Alberta student loan, the loan remains payment and interest-free while in residency. Information for Alberta Student Aid borrowers can be found here. You will need to fill out a Form B, and this can be completed a maximum of 30 days before the start of the study period.  Each year of Residency runs July 1-June 30, and the earliest a Form B can be completed is June 1.
Out of Province Student Loans
Student loans and grants are managed by each province. Eligibility is determined based on the province you reside in, not where you are attending school.
Please be familiar with the residency requirements for independent and dependent students. The Office of the Registrar gives the following guideline for determining which province you should apply for student loans:
Residency for Independent Students: 
Students who are 21 years of age or older; have been out of high school for more than four years; have been available for full-time work for at least two years since graduating high-school; are married/common-law; are divorced/separated/widowed; or have at least one dependent child are considered to be independent.  
If you qualify as an independent student, you should apply for your student loans in the province where you:
have most recently lived for 12 consecutive months while not a full time post-secondary student, or
currently reside if you have never lived in any other Canadian province for 12 consecutive months
Residency for Dependent Students
Students who do not meet any of the independent student eligibility are considered to be dependent students.
If you are a dependent student, you will determine province of residency based on where your parent(s) reside.