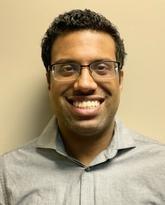 George Francis
MD, FRCPC (Physical Medicine & Rehabilitation), Clinical Assistant Professor
Master Teacher Program
Biography
Dr. George Francis is a physiatrist with a fellowship in cancer rehabilitation. His clinical practice includes general physiatry, brain injury rehabilitation, electromyography, and cancer rehabilitation.
Dr. Francis developed an interest in medical education at both the postgraduate and undergraduate levels and is actively involved in teaching residents and medical students at various levels. He has an interest in incorporating technology into education, and humanist learning, where he hopes to inspire students to become engaged in learning throughout their careers. He is currently a Master Teacher in Undergraduate Medical Education, and the Competency-By-Design Lead for the Physical Medicine & Rehabilitation residency program.
When not working, Dr. Francis spends his time with his family, out bicycling on one of Calgary's many trails, or hammering away at piano keys (often struggling).