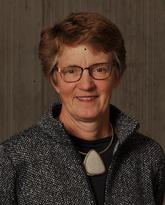 Heather Baxter
MD CCFP FCFP, Ass. Clinical Professor Family Medicine
Master Teacher Program
Biography
Heather Baxter is a family physician who practiced the full scope of care urban family medicine including community clinic, inpatients, obstetrical care and long term care patients. She also practiced travel medicine and was a long term member of the Alberta Mental Health Review Panel. The final 17 years of her career were focussed on low-risk maternity care, practicing in NE Calgary and representing Alberta of the CCFP Maternity Care committee and the SOGC ALARM committee. She was an active ALARM instructor and course director for over a decade. She was the Family Medicine post-Graduate Enhanced Skills Program Director 2016 - 2019. Dr. Baxter retired from her clinical work in 2018.
Dr. Baxter has been actively involved in undergraduate education as Director of the Master Teacher program 2009-2019. She was the recipient of the 2011 UME Award for clinical, adjunct and research faculty, and the 2017 UME Jones Award for Teaching Excellence in Medical Education, both from the University of Calgary.
As Senior Advisor and Lead, Global Health Medical Education Capacity Building Unit for CSM, she works with university partners from 8 low and middle-income countries to help improve the quality of their health science education and graduates.
Interconnecting with individuals locally and globally – either within medicine, education or sports (National Masters team member field hockey, avid skier, hiker, traveller) is her passion. Being outdoors makes her happy!