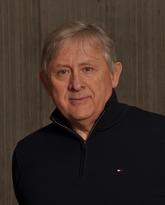 Jean-François Lemay
MD, FRCPC Developmental Pediatrician
Master Teacher Program
Biography
How can we describe Dr. Lemay? One of his colleagues said the following about him "he is a dynamic, full of energy, funny, overall passionate human being. He is somewhat unconventional in his teaching methods but efficient in his way of sharing his knowledge and dialoguing when he is teaching."
Dr. Lemay arrived in Calgary in 1997, within the Developmental Pediatric Section at the Alberta Children's Hospital (ACH). Previously, he was part of the medical staff at McGill University (Montreal Children's Hospital). Since then he has filled numerous medical education positions, including: Pediatric Postgraduate Director, Director of Admissions and Student Affairs and Financial Aid at the University of Calgary, Cumming School of Medicine (where he introduced and implemented the Multiple Mini Interview Admission Process), as well as numerous innovative initiatives in students' support, Course 6 teacher, Ombudsman and Senior Advisor (evaluation process) for the Royal College of Physicians and Surgeons of Canada.
Over the span of his career, Dr. Lemay has held many teaching awards both nationally and locally. Notably, he was awarded the 2003 University of Calgary McLeod Distinguished Achievement Award for Excellence in Teaching and the 2015 Canadian Pediatric Society Medical Education Award for the recognition of his work in medical education. Following the January 2010 earthquake in Haiti, Dr. Lemay successfully initiated collaborative projects with the medical school in Haiti to rebuild its medical curriculum program for which he received the 2012 Humanitarian Award by the Department of Pediatrics in the University of Calgary, Cumming School of Medicine.
In 2010, he worked as part of the medical team at the Winter Olympics in Vancouver. He has been president of the Calgary Keikos Swimming Club for 10 years and a medical volunteer for provincial and national canoe-kayaking events. In addition, he is involved in numerous charity organizations such as Alberta Children's Hospital Foundation.
Currently, Dr. Lemay serves as a Professor at the University of Calgary, Cumming School of Medicine and is an active member of the Developmental Pediatrics Section at ACH. As of 2017, he is a Master Teacher for the undergraduate MD program. In addition, he remains very active with the teaching of residents at ACH, as well as different healthcare professionals locally, provincially, nationally and internationally.
Dr. Lemay summarizes his teaching philosophy with these 3 following quotes:
"Teaching should be such that what is offered is perceived as a valuable gift and not as a hard duty." Alberta Einstein, Nobel Prize-winning Scientist.
"Any genuine teaching will result, if successful, in someone's knowing how to bring about a better condition of things than existed earlier." John Dewey, American Philosopher and Educator.
"Live as if you were to die tomorrow. Learn as if you were to live forever." Mahatma Gandhi, Spiritual and Political Leader.