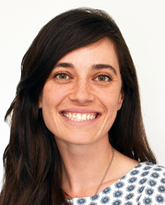 Jori Hardin
MD, Clinical Assistant Professor, Dermatology
Master Teacher Program
Biography
Dr. Jori Hardin is a clinical assistant professor in the Department of Dermatology at the University of Calgary. She graduated from the University of Calgary Dermatology program in 2017 with special interests in Cutaneous Lymphoma and Outreach Dermatology, where she travels to the Siksika Nation Reserve as well as the Alex Health Center. Through these clinics, she is able to provide care for both Indigenous and marginalized patients who might not otherwise access a dermatologist. Dr. Hardin is focussed on providing culturally safe and inclusive care to all who she serves. This stems from a strong desire to provide compassionate care to all members of our society. She also is involved in Dermatology resident teaching and serves as the Chair of the Dermatology Residency Mentorship and Wellness program.
As a Master Teacher, Dr. Hardin loves returning to the home of Undergraduate Medical Education (UME) to remind her how lucky she is to be a physician and what a privilege it is to teach medical trainees. She enjoys teaching communications and integrative courses most because these courses focus on humanism and compassion in medicine which seems to be so often lost as careers evolve. This year she was a co-chair for the dermatology portion of Course 2 and introduced "the carousel" to the class of 2022 where students were divided into small groups and rotated through 14 dermatology stations over an afternoon (like a carousel). Dr. Hardin holds the Honourable Mention PARA Clinical Teaching Award for 2018.
Dr. Hardin's teaching philosophy revolves around three main tenants:
- Everyone is a learner.
- Everyone is trying their best, wants to succeed, and wishes to grow authentically.
- Learning occurs constantly.
Prior to teaching dermatology residents or having medical students do clinical rotations, Dr. Hardin explains her philosophy which allows for less anxiety and more genuine learning by all parties involved. She is often heard saying to learners, "You are here to learn, not to look good!" which helps take the pressure off performance and shift the focus back to meaningful knowledge acquisition and patient engagement. Dr. Hardin truly believes that all learners are intelligent, well-trained, care about doing their best, and wish to improve. She engages learners through this lens. She supports the use of compassion in teaching and learning. Lastly, she feels feedback is crucial to learning and developing because education works best as a dialogue with room for insight, innovation, and collaboration.
Dr. Hardin is a mother to three young children and describes parenthood as "the absolute best, it doesn't get any better!" To her, parenthood is easily the most humbling and rewarding job in the world.