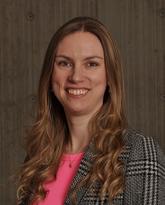 Laura Hinz
MD, MSc, BSc, FRCPC Endocrinology and Metabolism
Master Teacher Program
Biography
"Actually mummy, that move is called a sauté." There is nothing quite like an enthusiastic four- year old ballerina to remind you that every day provides a learning opportunity. When I am not working as an Endocrinologist, or mom to two awesome girls, I pursue my passion as a (very) amateur dancer and it teaches me humility, dedication, and patience.

Dance has refined my teaching philosophy: I now see the role of teacher as dual roles of both Choreographer and Coach. First, it is my responsibility to teach the "choreography" -- the fundamental procedures, content, and techniques of medicine. Perhaps more importantly, the second role is to recognize and embrace the unique style of each student. My role is help them to not only grow their skills but to adapt the steps where able, to recognize the power of their own unique traits and to use those traits to their utmost potential.

I am lucky to have several teaching roles that allow me to put this philosophy into action every day. I love my work as a Master Teacher, where I get to follow the students longitudinally through every course. I put my medical education theory training to work (recently finished a Masters of Medical Education) as the Clerkship OSCE Evaluation Coordinator. I also recently joined the Faculty Advocates Against Mistreatment (FAAM) team, which provides support to medical students as they navigate the challenges of training.
Outside of teaching, I work as a general Endocrinologist at the Associate Clinic. I have an interest in metabolic bone disease and work at the Southern Alberta Transplant clinic and the David Hanley Osteoporosis Clinic. In the division of Endocrinology, I serve on the Wellness Committee, as I truly believe that well physicians make better advocates for patients and students.