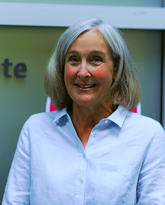 Peggy Aufricht
MD, FCFP Clinical Assistant Professor Family Medicine
Master Teacher Program
Biography
My family medicine career was happily spent at Crowfoot Village Family Practice, where I cared for 1800 patients for 26 years. I led the Crowfoot primary care reform project which started in 1999, a model based on capitation (per patient) funding. This funding model supported our early adoption of team-based care, RN telephone triage, and quality measurement through the EMR. Much of our learning was transferred to the development of the Calgary Foothills Primary Care Network, where I worked hard on the planning and implementation, and served as the first Medical Director in 2006. My passion is primary care reform, prioritizing patient ease of access, provider efficiency, and quality outcome measurement.
I love teaching foundational skills like physical exam, communications, and the small group sessions, working through patient cases. It is my job to make the information relevant by relating it to real-life practice. The medical students are truly amazing and inspiring; I encourage them to maintain their individual style so that every patient can find a physician they connect with.
I am grateful for my wonderful husband, three (grownup) kids and two lively grandchildren. My day does not feel complete without some outside time- cross-country skiing, hiking, gardening, cycling, or playing golf.