Community Pediatric Asthma Service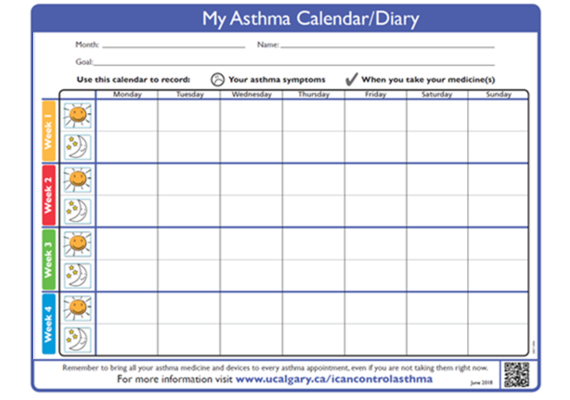 My Asthma Calendar/Diary
Families find it very helpful to use an asthma calendar/diary. We have listed some handy tips below.
Post It and Use It!
Hang this in a visible place (like on the fridge), so everyone involved in your child's care will know if asthma medicines have been taken or not.
Use it for one month to reinforce the daily routine of taking asthma medicine. Research shows it takes 21 days to create a new habit.
Develop A New Routine
Encourage your child to participate in creating a new routine. Some children are motivated by rewards for remembering to take medicine every day for a month (like stickers to put on the calendar).
Track Medicine and Symptoms
Track medicine changes you make as outlined in your child's Asthma Action Plan. Bring this information to all of your child's asthma appointments.
Track symptoms to increase your awareness of what your child's asthma symptoms are and when they happen to help you understand what well-controlled asthma looks like.
Walk | Run | Play | Breathe
Material on this website has been designed for information purposes only. It should not be used in place of medical advice, instruction and/or treatment.
If you have specific questions, please consult your doctor or appropriate health care professional.